July 31, 2015: Jena Malone Rumored to Portray Barbara Gordon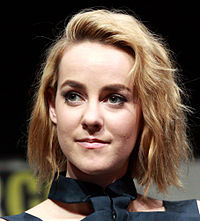 by Neil A. Cole
According to a new rumor from Latino Review, actress Jena Malone ("The Hunger Games", "Sucker Punch") will portray Barbara Gordon in "Batman v Superman: Dawn of Justice".
The site states that it is not known at this point whether she will also appear as Batgirl or Oracle. This is all contrary to initial reports that Malone would be playing the character of Carrie Kelley from Frank Miller's "The Dark Knight Returns" storyline who becomes the first female version of Robin.
The rumors and speculation about Malone's role in the film all started after the actress was spotted on set with director Zack Snyder in August of last year.
At this point, there has been no official word from Warner Bros. in regard to this latest news and it should be treated as strictly rumor until such time that an official announcement or confirmation is released.
"Batman v Superman: Dawn of Justice" is scheduled to hit theaters and select IMAX locations worldwide on March 25th, 2016.
Source: Latino Review