"It's A Bird, It's A Plane, It's Superman!"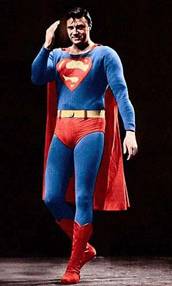 After the success of the TV series, Superman appeared in a Broadway musical-comedy entitled It's a Bird, It's a Plane, It's Superman, written by David Newman and Robert Benton, it presented Bob Holiday as Superman and Patricia Marand as Lois Lane, but the star of the show was Jack Cassidy as Max Mencken, the evil Daily Planet columnist.It was the first Broadway musical based on a comic book.
An Original Soundtrack, previously available on vinyl LP, was released by Sony Classical Music on Compact Disc that includes an informative booklet with photos from the play, and four bonus tracks. Sadly, the CD format did not allow reproducing the LP's clever back cover which was designed to appear like a newspaper's front page.
The plot revolves around Superman's efforts to defeat Dr. Abner Sedgwick, a ten-time Nobel Prize-losing scientist who seeks to avenge the scientific world's dismissal of his brilliance by attempting to destroy the world's symbol of good. Additionally, Superman comes into romantic conflict with Max Mencken, a columnist for the Daily Planet newspaper, who resents Lois Lane's attraction to Superman.
Although campy and somewhat dated, many of the songs are catchy. Despite some favorable reviews, the musical didn't catch on and closed on July 17th.
The musical was made into a TV special on February 1, 1975. It was broadcasted on ABC as part of its Wide World of Entertainment specials.
It starred David Wilson as Superman/Clark Kent, Lesley Ann Warren as Lois Lane, and Loretta Swit as Sydney Carleton.
Cast
Superman/Clark Kent.....................Bob Holiday
Max Mencken.............................Jack Cassidy
Lois Lane...............................Patricia Marland
Perry White.............................Eric Mason
Sydney..................................Linda Lavin
Dr. Abner Sedgwick......................Michael O'Sullivan
Jim Morgan .............................Don Chastain
Father Ling ............................Jerry Fujikawa
Dong Ling ..............................Bill Starr
Tai Ling ...............................Murphy James
Fan Po Ling ............................Julieste Salve
Ming Foo Ling ..........................Michael Gentry
Joe Ling ...............................Joseph Gentry
Credits
Composer...............................Charles Strouse
Lyricist...............................Lee Adams
Book...................................David Newman and Robert Benton
Director...............................Harold Prince
Musical Direction......................Harold Hastings
Orchestration..........................Eddie Sauter
Dance Arrangements.....................Betty Walberg
Scenery & Lighting.....................Robert Randolph
Costumes...............................Florence Klotz
Dances & Musical Numbers Staging.......Ernest Flatt