July 27, 2015: "Justice League: Gods & Monsters" Blu-ray/DVD Review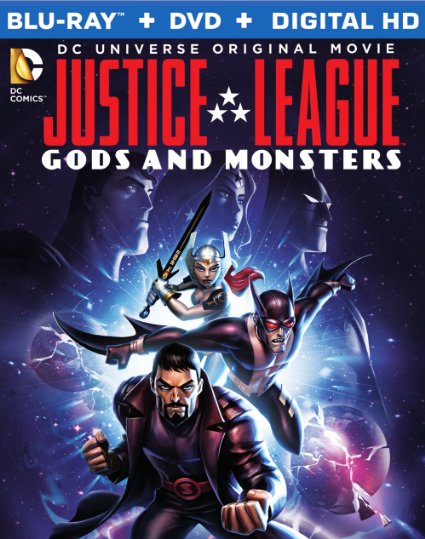 by Neil A. Cole
"Justice League: Gods & Monsters" is the 23rd film in the DC Universe Animated series and features an original plot written by Alan Burnett, directed by Sam Liu, and executive produced by Bruce Timm and Sam Register.
In an alternative universe, Superman is Hernan Guerra - the son of General Zod, who was rocketed to Earth as a child and raised by a family of Mexican migrant farmers, leading him to become short tempered and withdrawn from humanity.
Batman is Kirk Langstrom, a scientist who has inadvertently transformed himself into a form of pseudo-vampire in an attempt to cure his cancer, feeding on criminals to satisfy his hunger after it begins to eat away at his humanity.
Wonder Woman is Bekka - child of Ares, the God of War and wife of New God, Orion. An altercation results in her leaving Apokolips and eventually traveling to Earth using a sword conjoined to a mother box.
When these dark heroes form an alliance, the question everyone asks is will they save the world, or rule it?
The film kicks off with the Justice League's accountability being challenged by the world's governments following a series of suspicious deaths of renowned scientists, including Victor Fries being found drained of blood in the Arctic, Ray Palmer's car crushed with a woman's bootprint in the door, and Silas Stone burned alive by heat vision, along with his son Victor Stone.
With sole blame being mounted against the Justice League, President Amanda Waller requests that the team members cooperate with the Government's investigation into the murders. Wonder Woman speaks to Steve Trevor to learn what the Government knows, while Superman invites Lois Lane to the League's HQ, where he tells her of his goals to try to help humanity, and also reveals how little he knows about Krypton or his heritage.
Meanwhile, Batman's independent investigation leads to the discovery an email on Silas Stone's computer, that was sent to a number of scientists including Will Magnus - Batman's college roommate who helped him during his transformation into the pseudo-vampire. Batman asks Magnus about 'Project FairPlay', which involved all the scientists under Lex Luthor's employ. After Magnus refuses to reveal any information, Batman locates all the remaining scientists discussing the threat over their heads, when they are attacked by the assassins, who travel via Boom Tube.
Despite the combined efforts of all the League members intervening, the assassins slaughter the remaining scientists and 'Boom' out, with only Magnus left as the sole survivor.
The overall animation of "Justice League: Gods & Monsters" is pretty solid but does lack the punch and smooth style of previous DC Universe Animated films such as "All-Star Superman", "Batman: Under the Red Hood" and the more recent "Batman vs. Robin." My only other complaint would be the film's overall run time of only 72 minutes which results in a somewhat rushed storyline.
However, the script is well written and just enough time is spent on establishing the origins and background of each League member as this is the first time any of these characters from this alternate universe have been seen before.
Easily the best aspect of "Justice League: Gods & Monsters" is the voice casting. While the familiar cast from the Justice League animated tv series has understandably been replaced with new voice actors, each individual does a superb job of making their respective characters their own as opposed to tryin to mimic or copy what has come before.
Benjamin Bratt does a wonderful job establishing his role as Hernan Guerra/Superman offering a completely different take on the iconic character than that of Tim Daly who is well known for voicing the Man of Steel for many years. Michael C. Hall and Tamara Taylor are also phenominal in their debuts as the respective voices of Kirk Langstrom/Batman and Bekka/Wonder Woman.
Rounding out the "Justice League: Gods & Monsters" primary cast are Paget Brewster as Lois Lane, C. Thomas Howell as Dr. Will Magnus, Jason Isaacs as Lex Luthor/Metron, Dee Bradley Baker as Ray Palmer, Eric Bauza as Ryan Choi, Larry Cedar as Pete Ross, Richard Chamberlain as Highfather, Trevor Devall as Emil Hamilton, Dan Gilvezan as Pat Dugan, Grey Griffin as Tina/Platinum, Daniel Hagen as Doctor Sivana, Penny Johnson Jerald as President Amanda Waller, Josh Keaton as Orion, Arif S. Kinchen as Michael Holt, Yuri Lowenthal as Jor-El, Carl Lumbly as Silas Stone, Jim Meskimen as Victor Fries, Taylor Parks as Victor Stone, Khary Payton as John Henry Irons, Tahmoh Penikett as Steve Trevor, Andrea Romano as Jean Palmer, Bruce Thomas as General Zod, Lauren Tom as Lara, and Kari Wahlgren as Karen Beecher.
In the end "Justice League: Gods & Monsters" is pretty solid, but not remarkable. It plays very well but, as I stated before, could have been a bit longer to encompass more of a storyline and increase the fight sequences which are easily the strongest points of the movie. Although the film does have a PG-13 rating due to vilolence and language, it is nothing more than what one would expect to see in any of the prior releases in the DC Universe Animated series.
All-in-all, I'd rank this film as one of DC's best in the series so far and is one release you will defintely want to add to your movie collection..
Bonus Content
ALTERNATE REALITIES: Infinite Possibilities - Justice League: Gods & Monsters falls into a category of storytelling where our well-known characters and the worlds they inhabit are re-imagined. This documentary explores the various attempts by writers to have a little fun and tinker with the characters, resulting in exceptional storytelling that posed thought-provoking questions to audiences.
CALCULATED RISKS: The Making of Gods and Monsters – Justice League: Gods & Monsters was an idea that pushed the boundaries. It began with that challenging question writers face: "What haven't we seen before?" Bruce Timm and Alan Burnett audaciously answered that challenge, resulting in a fresh and exciting film that forces us to think differently about the DC Universe.
The New Gods – Encore presentation of 2010 documentary about Jack Kirby's New Gods.
A Sneak Peak at DC Universe's Next Animated Movie – An advance look at the next DC Universe Original Movie.
Bonus cartoons from the DC Comics Vault
Justice League: Gods & Monsters DVD contains the following special features:
A Sneak Peak at DC Universe's Next Animated Movie – An advance look at the next DC Universe Original Movie.
Produced by Warner Premiere, DC Entertainment and Warner Bros. Animation, the all-new "Justice League: Gods & Monsters" arrives July 28th, 2015 from Warner Home Video as a Blu-Ray Combo Pack and DVD and for Download. Both the Blu-Ray Combo Pack and DVD will include an UltraViiolet™ Digital Copy.
Trailer