Superman in the Real World
Metropolis, NV
Ghost Town
---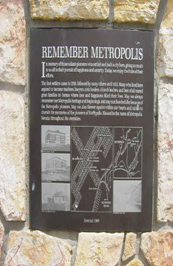 What was once a thriving community of 25,000 in Nevada is now nothing more than a ghost town of old hotel & school foundations and desert land littered with artifacts that dictate what once existed here.
Metropolis, IL
Home of Superman
---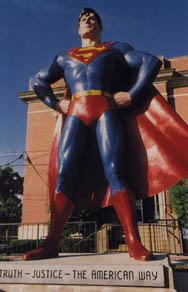 For over two decades now, the small vill(ag)e of Metropolis, Illinois, has welcomed tourists and curiosity seekers to the one-and-only home of the comic book hero.
Siegel Home
Glenville, OH
---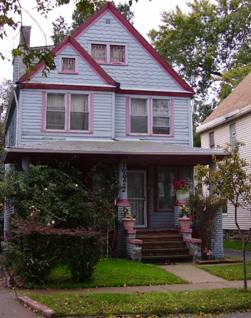 Jerry Siegel was born and raised in the community of Glenville, a suburb of Cleveland, Ohio. Read all about this community and the efforts to preserve the memory of Siegel and Shuster.
The Amazing
World Of Superman
---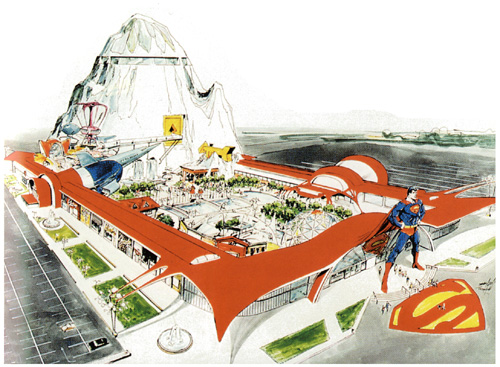 The Amazing World of Superman was a giant complex that would have brought to life many phases of the Superman legend through rides, exhibits, and other forms of entertainment. Read why it failed and the possiblity of a new park.
George Reeves Home
Benedict Canyon Drive
---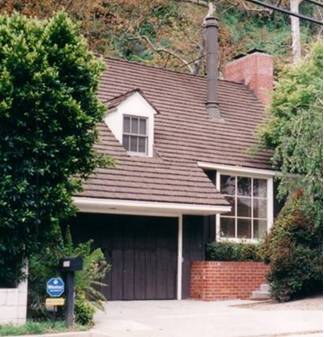 1579 Benedict Canyon Drive, Beverly Hills is the address of the house where actor George Reeves, TV's "Superman," was found dead of a gunshot wound on June 16, 1959.
Super Day
1939 World's Fair
---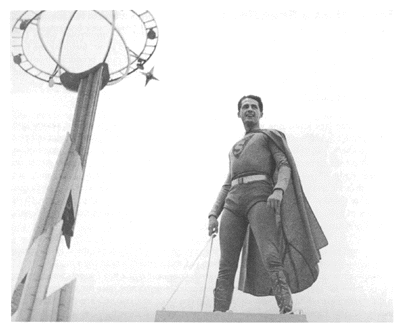 The world first got to meet the Man of Steel on July 3, 1940 at the New York World's fair. The man chosen to portray Supe's was an actor named Ray Middleton whose costume was unlike anything you would see Superman wear today.
Superman
On Broadway
---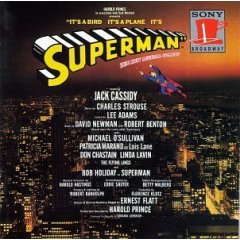 Believe it or not, Superman has actually appeared on Broadway... if only for a brief period of time. 'It's A Bird, It's A Plane, It's Superman' starred Bob Holiday as the Man of Steel in this satarical take on the Superman story.
Woolstock, Iowa
Reeves Birthplace
---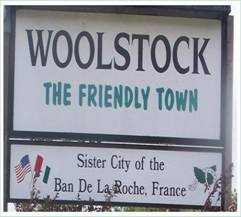 On January 5th, 1914, George Keefer Brewer was born to Helen Lescher Brewer and Don Brewer in the small Iowa town of Woolstock, Iowa.
Super Museum
Metropolis, IL
---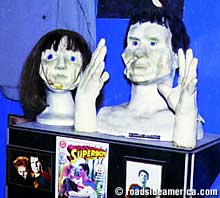 The Super Museum features the life's work of Jim Hambick who has been collecting anything and everything dealing with the Man of Steel sinve 1959! Read all about this amazing museum here.
George Reeves'
Resting Spot
---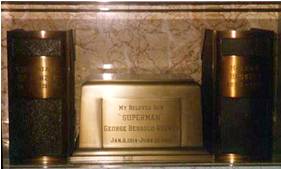 George Bessolo Reeves' final resting spot lies within the Mountain View Cemetary in Oakland, California. His ashes lie within a crypt in the Pasadena Mausoleum, Sunrise Corridor with a memorial plaque.
Super Heroes
Museum
---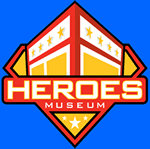 Now closed 3,000 square foot Museum that was devoted to Super Heroes — most notably Superman but also Batman, the subject of a once increasing number of important displays.
Superman
Celebration
---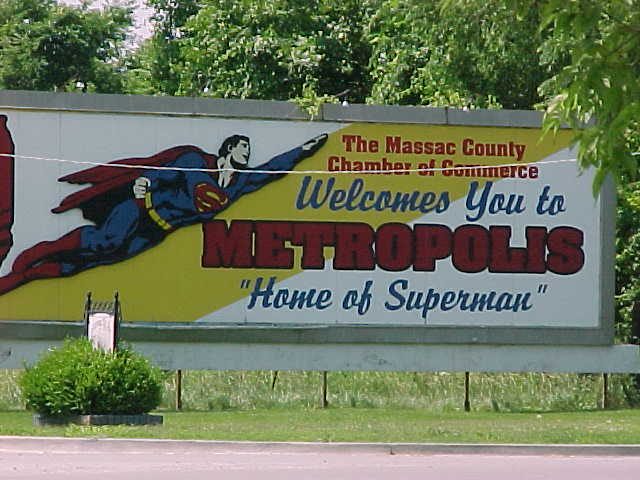 Each Second Full Weekend in June, the City of Metropolis IL, the "Home of Superman" celebrates their Favorite Son, Superman with this fun and festive celebration! Mark your calendars and plan to visit Metropolis this June.
Hall of Heroes
Superhero Museum
---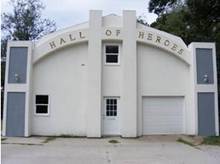 The Hall of Heroes Superhero Museum was founded by Allen Stewart and is located in Elkhart, Indiana. It is in a two story recreation of the Hall of Justice from the 1970's Superfriends animated series.
Superman
in Wax
---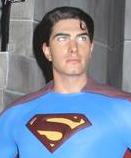 A listing of all the known wax museums featuring wax figures of Superman or the actors that have portrayed him over the years.
Superman
Cookies
---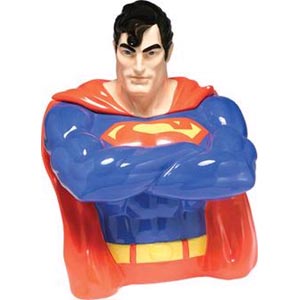 A classic recipe from the 1960's for the Man of Steel in all of us. The recipe may be dated, but the result is still delicious! Cook up some for your Superman, or Superwoman!