Justice League: Crisis on Two Earths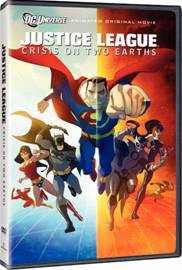 Let's hear it for the folks at DC Comics -- they're really cranking out the direct-to-DVD animated adventures and, for the most part, doing it with quality.
The latest foray to hit the shelves (and bolster the PR machine announcing DC's 75th anniversary) is "Justice League: Crisis on Two Earths" -- the first such title to use the ominous C-word. As any fan of DC Comics knows, "Crisis" has a long-standing tradition; it's a code-word that's been used in Justice League stories since the first ever meeting between the Justice League of America and the Justice Society of America who, at that time, existed on a parallel Earth -- designated Earth 2 --despite the fact that they appeared in comic books first. Go figure. The Earth-hopping adventures became something of an annual tradition for a while in the pages of Justice League of America, but most people will instantly think of the 12-issue maxi-series, Crisis on Infinite Earths when referring to Crisis.
In keeping with that tradition, the writers for this story have the Justice League encountering the Crime Syndicate -- dopplegangers of the Justice League members who use their powers to dominate their world, slicing it up into territories like super-powered mob bosses; which is precisely how they're presented, each with lesser-powered minions working for them. Among their number you'll find Ultraman (voiced with an appropriate gangster tone by Brian Bloom), Owlman (James Woods), Superwoman (Gina Torres), and Johnny Quick (James Patrick Stuart) -- counterparts, obviously to Superman (Mark Harmon), Batman (William Baldwin), Wonder Woman and Flash (Spectacular Spider-Man's Vanessa Marshall and Josh Keaton). (Nolan North does double duty as Green Lantern Hal Jordan and his counterpart, Power Ring.)
The action starts when Lex Luthor and the Jester -- the last two super-heroes of Earth -- launch a raid on the Crime Syndicate's headquarters, to steal a device the Syndicate plans to use to arm an earth-shattering bomb. During the raid, Luthor uses a transporter to take him to the Earth of the Justice League, hoping to recruit their assistance.
Naturally, he gets it, despite Superman's reluctance and Batman's outright refusal, and the viewers are taken on a roller coaster ride through an easter egg hunt of the DC Universe. It's all kinds of fun to see cameos by DC heroes like Black Lightning, Firestorm (the Jason Rausch version), and Red Tornado -- as well as identifying the evil counterparts, which include versions from the old Detroit JLA days with characters like Vibe and Gypsy.
The plot borrows only slightly from Grant Morrison and Frank Quitely's graphic novel, Earth 2, but the similarities are superficial at best. Instead of a world where the concepts of good and evil are reversed, this world is seen as having the same set of morals as our own, but suffering from a lack of power to counter the villains. President Slade Wilson (Bruce Davison) has all but rolled over for the Syndicate to keep the peace, but his daughter, Rose (Freddi Rogers), is quite vocal about resisting the villains. Eventually, she develops a kinship with the Martian Manhunter (Jonathan Adams), developing into something of a doomed romance. Meanwhile, Owlman has far greater schemes than a bomb that can destroy the Earth; he's tapped into the multiverse, and has theorized why there are infinite Earths... and how he could destroy not just one, but all of them.
As fun as the story is, there are some flaws -- first and foremost being the voice casting of William Baldwin for Batman. I'm sorry, but the guy who played Johnny 13 just can't summon the requisite smoke and menace to believably portray the Dark Knight. Secondly, as much as I love and respect Aquaman and was thrilled to see him make an appearance in the film, there's simply no way fans can believe he's tough enough to stand toe-to-toe with Captain Marvel -- not even a mirror universe version of him -- or any of the Marvel Family.
But there are far too many other reasons to pick up this set, which outway my paltry negatives. One of them is the bonus short feature, "The Spectre." This version, featuring Gary Cole as Jim Corrigan and Alyssa Milano as the damsel in distress, harkens back to the Michael Fleisher / Jim Aparo interpretation of the character from the 1970s and, as such, the feature has an appropriate grindhouse look and feel. The animators even washed out the artwork and added film graininess to give it a patina of verisimilitude. This version of the Spectre has always been my favorite, featuring a Jim Corrigan who's actually a ghost instead of a human host for the spirit of vengeance, and a Spectre who deals out poetic justice in eerie fashions. This short is an absolutely fantastic gift to the fans, and one hopes that these bonuses featuring lesser used character will become de rigueur for future DC DVD releases.
You'll also get a first look at the next DC Universe release, "Batman: Under the Red Hood," which adapts Judd Winick's recent story arc. While this wouldn't be my first pick -- I'm still hoping DC will mine some of their older classic arcs like "New Teen Titans: The Judas Contract" or "Legion of Super-Heroes: The Great Darkness Saga" -- I'll admit that after hearing Bruce Timm, Alan Burnett and company talk this one up, I'm excited to see the final results. The preliminary artwork is also a step away from the Justice League Unlimited style, inching ever closer to more realistic presentation.
The second disc also holds some goodies, kicking off with "DCU: The New World." In this twenty-six minute documentary, Paul Levitz, Rags Morales, Geoff Johns, Mike Carlin, Dan Didio, Michael Uslan, and Brad Meltzer talk about the history of the DCU and the impact of each Crisis -- from Crisis on Infinite Earths to Identity Crisis and Infinite Crisis. Much is made of the DCU being reflective of the post-9/11 world, and the psychology of the superhero. It's an interesting look at how writers plan to "raise the stakes" for their characters.
This disc also contains the usual (and still welcomed) bonus episodes of Justice League selected by Bruce Timm to complement the main feature. This time the choice, naturally, was the two-part storyline, "A Better World," in which the Justice League of an alternate Earth (calling themselves the Justice Lords) decide to cross the line and impose order on their chaotic planet, eliminating not just crime but all forms of dissent. When their Batman discovers the world of the Justice League, they decide to cross the interdimensional boundaries and show the League how business should really be done.
DC Comics is consistently raising their own bar, setting higher and higher standards for what to expect from their DVD releases. "Justice League: Crisis on Two Earths" continues to do just that, and then some.
Press Release
To save our world and all those like it, SUPERMAN, BATMAN and their caped colleagues must go toe-to-toe with their evil mirror images in Justice League: Crisis on Two Earths, the seventh entry in the successful ongoing series of DC UNIVERSE Animated Original PG-13 Movies coming February 23, 2010 from Warner Premiere, DC Comics and Warner Bros. Animation. The full-length animated film will be distributed by Warner Home Video as a Special Edition 2-disc version on DVD and Blu-Ray™ Hi-Def for $24.98 (SRP) and $29.99 (SRP), respectively, as well as single disc DVD for $19.98 (SRP). The film will also be available On Demand and Download.
Justice League: Crisis on Two Earths is an original story from award-winning animation/comics writer Dwayne McDuffie (Justice League) rooted in DC Comics' popular canon of "Crisis" stories depicting parallel worlds with uniquely similar heroes and villains. Bruce Timm (Superman Doomsday) is executive producer. Lauren Montgomery (Wonder Woman, Green Lantern: First Flight) and Sam Liu (Superman/Batman: Public Enemies) are co-directors.
In Justice League: Crisis on Two Earths, a "good" LEX LUTHOR arrives from an alternate universe to recruit the JUSTICE LEAGUE to help save his Earth from the Crime Syndicate, a gang of villainous characters with virtually identical super powers to the JUSTICE LEAGUE. What ensues is the ultimate battle of good versus evil in a war that threatens both planets and, through a diabolical plan launched by OWLMAN, puts the balance of all existence in peril.
The movie features an all-star voice cast led by Mark Harmon (NCIS) as SUPERMAN, James Woods (Ghosts of Mississippi) as OWLMAN, Chris Noth (Sex and the City, Law & Order) as LEX LUTHOR, William Baldwin (Dirty Sexy Money) as BATMAN, Gina Torres (Serenity, Firefly) as SUPERWOMAN and Bruce Davison (X-Men) as the President.
Justice League: Crisis on Two Earths - 2 Disc Special Edition version will have more than two hours of incredible bonus features, including:
-DC Showcase - The Spectre: The first animated short in the all-new DC Showcase series focuses on a detective story with an ethereal twist, featuring the otherworldly character originally introduced by DC Comics in 1940. The short is written by Steve Niles (30 Days of Night), and the voice cast includes Gary Cole (Entourage) and Alyssa Milano (Charmed).

-Featurette – "The New World": From Identity Crisis forward, DC Comics raised the stakes with talent writers, editors and artists pushing the boundaries of what it means to be a modern day Super Hero. This documentary covers the riveting and often harrowing tale of New York Times bestselling author Brad Meltzer's "Identity Crisis," and why this story struck the right chord with the comic book audience. The story is a personal one for the creator, as well as the DC Comics executives' fortunate enough to have been a part of this mature comic book publication. While revealing the strategy and sentiments behind this comic book, the documentary film goes a step further to explore the continuing and recent publications of "Infinite Crisis" and "Final Crisis," while crafted with the narration of "The Dark Knight" Executive Producer Michael Uslan. The tension is high, the story is personal, and the stakes have been raised!

-Extended Sneak Peek at the next DC UNIVERSE Animated Original PG-13 Movie.

-Digital Copy Download

-Widescreen (1.78:1)

-Two Episodes of Justice League Unlimited hand-picked by animation legend Bruce Timm
Justice League: Crisis on Two Earths Blu-Ray versions will have more than three hours of bonus materials, including all the great extras from the 2-disc Special Edition and two additional episodes from Justice League Unlimited, both personally selected by fan-favorite Bruce Timm, plus television pilot episodes from the DC live-action shows: Wonder Woman, and Aquaman.
"Justice League: Crisis on Two Earths is an outstanding representation of the DC Universe series of groundbreaking animated films coming from creative forces within DC Comics, Warner Premiere, Warner Bros. Animation and Warner Home Video," said Matt Bierman, Senior Vice President Production, Warner Premiere. "It is a testament to the team effort between those four divisions that brings forth a feature-length animated original PG-13 film bursting with great storytelling, memorable characters and impressive animation. This is truly a blockbuster animated film."
"We're very excited to present an original story from renowned writer Dwayne McDuffie that takes the JUSTICE LEAGUE mythology and spins it on its ear with parallel worlds echoed in so many classic DC 'Crisis' tales," said Gregory Noveck, Senior VP Creative Affairs, DC Comics. "This is a thinking man's hero movie with a set of villains determined to succeed and one focused on complete intergalactic annihilation – so just as the stakes are that much higher, so is the intensity of the action with these legendary characters."
"DC UNIVERSE films continue to stretch the creative boundaries of comics-to-film presentations, and Justice League: Crisis on Two Earths offers fans another vision of these iconic characters brought forth by outstanding animation talent – led by executive producer Bruce Timm – and an inspired voice cast featuring the stellar talents of Mark Harmon, Chris Noth, William Baldwin, Gina Torres and James Woods," said Amit Desai, WHV Vice President of Family, Animation & Partner Brand Marketing.
"The co-direction of Lauren Montgomery and Sam Liu merges the best of the last three DC UNIVERSE films with a fine balance of intelligence, emotion and more action than even two Earths can handle," said Sam Register, Executive Vice President, Warner Bros. Animation.