Supergirl (TV Series)
by Neil A. Cole
Supergirl is an American television series developed by writer/producers Greg Berlanti, Ali Adler and Andrew Kreisberg which airs on the CBS Television Network.
The series is based on the DC Comics character Supergirl (Kara Zor-El), a costumed superhero who is the biological cousin to Superman and one of the last surviving Kryptonians, who was created by Otto Binder and Al Plastino. The series was officially picked up on May 6, 2015 after receiving a series commitment in September 2014, and will premiere on October 26th at 8:30PM (EST).
Premise
Twelve-year-old Kara escaped the doomed planet Krypton with her parents' help at the same time as the infant Kal-El. Protected and raised on Earth by her foster family, the Danvers, Kara grew up in the shadow of her foster sister, Alex (Chyler Leigh), and learned to conceal the phenomenal powers she shares with her famous cousin in order to keep her identity a secret. Years later at 24, Kara lives in National City assisting media mogul and fierce taskmaster Cat Grant (Golden Globe Award winner Calista Flockhart), who just hired the Daily Planet's former photographer, James Olsen (Mehcad Brooks), as her new art director. However, Kara's days of keeping her talents a secret are over when Hank Henshaw (David Harewood), head of a super-secret agency where her sister also works, enlists her to help them protect the citizens of National City from sinister threats. Though Kara will need to find a way to manage her newfound empowerment with her very human relationships, her heart soars as she takes to the skies as Supergirl to fight crime. Greg Berlanti ("The Flash," "Arrow"), Ali Adler, Sarah Schecter and Andrew Kreisberg are executive producers for Berlanti Productions in association with Warner Bros. Television. The pilot was directed by Glen Winter ("Arrow").
Cast/Characters
Melissa Benoist as Kara Zor-El / Kara Danvers / Supergirl: A 24-year old Kryptonian living in National City who must embrace her powers after previously hiding them. She is Cat Grant's assistant at CatCo. Benoist expressed her excitement over portraying the character, and being able to "[tell] a story about a human being really realizing their potential and their strength". Claire Holt and Gemma Atkinson were under consideration for the role. Malina Weissman will portray a young Kara.
Mehcad Brooks as James "Jimmy" Olsen: A former Daily Planet photographer living and working in National City for Cat Grant as her new art director and love interest for Kara.
Calista Flockhart as Cat Grant: The founder of media conglomerate CatCo.
David Harewood as Hank Henshaw: A former CIA agent who is the head of the Department of Extra-Normal Operations (DEO), who goes on high alert when Supergirl reveals herself, worried that her otherworldly abilities pose a threat to humankind.
Chyler Leigh as Alexandra "Alex" Danvers: Kara's adoptive sister and a doctor who will try to learn as much as she can about Kara's Kryptonian culture. She works for Henshaw at the DEO.
Laura Benanti as Alura Zor-El: Kara's birth mother whose wisdom and guidance proves invaluable in Kara's journey toward becoming Supergirl.
Jeremy Jordan will portray Winslow "Winn" Schott, a tech expert who works alongside Kara at CatCo, based on the DC Comics character Toyman, in a guest role. It has the potential to become a recurring role. Faran Tahir will portray The Commander, while Owain Yeoman will portray Vartox, an alien convict who has been hiding on Earth for the past twelve years and seeks a battle with Supergirl after she emerges. Helen Slater (who portrayed Supergirl in the 1984 film) and Dean Cain (who portrayed Superman in Lois and Clark: The New Adventures of Superman) are cast in undisclosed roles. The Lumberjack, a minor DC character, will appear in the pilot episode.
Development
By September 2014, Warner Bros. Television was looking to create a television series centered around Supergirl. Executive producers for the series include Greg Berlanti (also a creator/producer for Arrow and The Flash), Ali Adler, who are both writing the script, and Berlanti Productions' Sarah Schechter. DC Comics' Geoff Johns is also expected to be part of the project. Titles under consideration for the series included Super and Girl. Berlanti confirmed the show shortly after, and stated it was in development and had yet to be pitched to networks. On September 19, it was announced that CBS had landed Supergirl with a series commitment, and is expected to premiere in 2015 of the 2015–16 television season. In January 2015, CBS Entertainment Chairman Nina Tassler revealed the show would be a procedural, saying, "There will be [crime] cases, but what [executive producers] Ali Adler and Greg Berlanti pitched was a real series arc for her. The beauty of it is now with shows like Good Wife and Madam Secretary, you can have serialized story elements woven into a case of the week. She's a crime solver, so she's going to have to solve a crime."
In March 2015, Blake Neely, composer for Arrow and The Flash, revealed he would be composing for Supergirl. The show was officially picked up to series on May 6, 2015. It is set to premiere in November 2015.
Design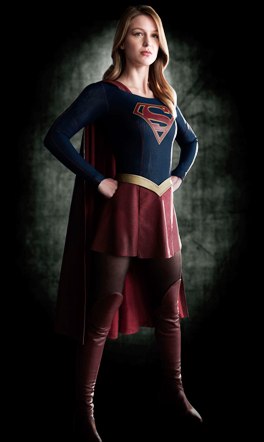 The costume for Supergirl was created by Colleen Atwood, who also designed the costumes for Arrow and The Flash. Benoist stated that she is aware of the costume worn by Kara in the comics books, and expressed that the "micro-mini hemline" of the skirt could be "a little daunting [...] but that's good. I like being pushed." Promotional photos of Benoist wearing Atwood's design were released on March 6, 2015. Atwood indicated that she wanted to "embrace the past [...] but more importantly, thrust her into the street-style action hero of today."
Reception of the costume upon its reveal was mixed. Entertainment Weekly?'?s Natalie Abrams commented that the new look of the costume looks and feels different in a good way. The new costume avoids exposing the character's midriff, as it does in the comic books, as well as having Benoist wear stockings underneath the skirt with knee-high boots. Abrams compared the texture of the costume to that worn by Henry Cavill as Superman in Man of Steel, as well as the positioning of the cape on the suit, and the decision to do away with the bright blue and red color scheme. Andrew Dyce, from Screen Rant, found the new costume to perfectly balance itself between classic nostalgia and modernism. The Washington Post noted that Atwood's design was success, specifically her ability to take "cartoon-y tints" and moving them to darker tones.
E! Online was less impressed with the design, negatively comparing it to a "cheap Halloween costume", with washed out colors, and not buying into the "gritty, 'street style'" look Atwood was intending. TV Guide questioned Atwood's design, and noted that although the promotional image has Benoist trying to appear as a powerful hero, the thigh-high boots and pleated skirt comes across as a "model advertising a moderately-priced Halloween costume".
Filming
In February 2015, it was announced that Andrew Kreisberg, co-creator of Arrow and The Flash, had joined the series as a writer and executive producer; and Arrow/The Flash and Smallville alum Glen Winter was announced to be directing the pilot. Principal photography for the pilot took place from March 4 to March 29, 2015. Filming locations included the Warner Bros. lot where Lois and Clark was shot.
Shared Universe
In November 2014, Berlanti expressed interest in Supergirl existing in the same universe as his other series Arrow and The Flash, and in January 2015, The CW president Mark Pedowitz revealed that he was also open to a crossover between the series and networks (due to Berlanti executive producing all three and The CW co-owned by CBS). However, Tassler stated that month that, "those two shows are on a different network. So I think we'll keep Supergirl to ourselves for awhile."