Annual Superman Celebration - Metropolis, Illinois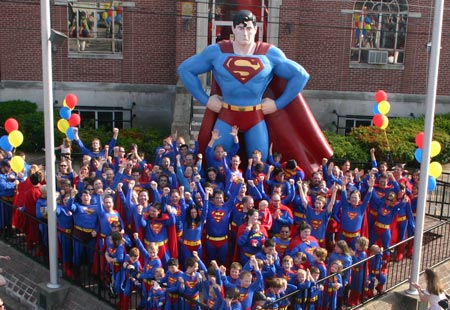 by Neil A. Cole
The Superman Celebration is a long standing festival and a must see event for people of all ages, especially comic book lovers. Superman fans travel from all over the globe to visit the small southern Illinois town that is the Official Home of Superman. The real life Metropolis, with a population of 6,500 residents, welcomes approximately 30,000 people over the four-day celebration.
47 States and 6 different countries were represented at the 2016 Celebration. 2017 marks the 45th year that Metropolis, IL has been designated as the adopted "Home of Superman."
The Celebration this year will be dedicated to the memory of Noel Neill, who portrayed Lois Lane in the Adventures of Superman television series. Neill, was a repeat guest to the Superman Celebration for many years and was even given the title "First Lady of Metropolis" when a statue of her portraying Lois Lane was revealed in her honor. Neill passed away in July of 2016.
The Superman Celebration kicks off at 5PM on Thursday June 8th and runs through 2pm on Sunday June 11th. Many special events are planned for this year's Celebration including musical entertainment, a carnival, Superman Celebrity Autograph and Q & A Sessions, and the Heroes & Villains Costume Contest. Also, planned for this year, is the return of the Hollywood Ball, in memory of Noel Neill.
For more information about the Superman Celebration, visit www.supermancelebration.net or call 800-949-5740. For information about Metropolis attractions and lodging, visit www.metropolistourism.com or call 877-424-5025.