George Reeves' Crypt
Mountain View Cemetary - Altadena, California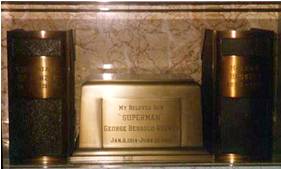 George Bessolo Reeves' final resting spot lies within the Mountain View Cemetary in Altadena, California. His ashes lie within a crypt in the Pasadena Mausoleum, Sunrise Corridor with a memorial plaque from his mother that reads simply, "My Belover Son - "Superman" - George Bessolo Reeves - Jan.6.1914-June.16.1959".
George's actual birth date is January 5, but when he was growing up his mother lied to him, telling him it was April 5, 1914, since this would place his birth at nine months after her marriage. He did not discover this until he was an adult. To make confusion worse, his mother made a mistake on his burial marker, listing his birth date as January 6 instead of January 5.
Mountain View is among the oldest cemeteries for the public in San Gabriel Valley. As was the custom in frontier days, residents of Pasadena buried their loved ones on family property. Colonel Jabez Banbury was no exception. His son, Charles, and other Pasadeneans such as Laura Giddings, part of the Wrigley Estate. Colonel Banbury decided to sell his property in 1882, and the matter of what would become of these graves became urgent. This prompted Mr. Giddings to set aside some of his property to be dedicated as a cemetery. In early 1883, the burials were moved to the newly established cemetery on Fair Oaks Avenue. By the end of the year, eight other transfers were made for a total of 24 burials. Today, after more than 100 years, the descendants of Levi W. Giddings still own and operate the cemetery, mortuary and crematory.
Through the years, Mountain View acquired the mausoleum located across the street from the main cemetery, on Marengo Avenue. Mountain View Mausoleum was considered the crown jewel of the more than 80 mausoleums constructed by Cecil E. Bryan. In addition, Pasadena Mausoleum was acquired and expanded. Both mausoleums offer the finest in burial crypts, niches and Westminster crypts.
Mountain View has two beautiful chapels: Chapel of the Gardens and Sunrise Chapel. Also available for memorial services is the outdoor Vista Del Monte Committal area. Mountain View is also known for its extensive stained glass windows, art collection and arboretum type grounds with trees from all over the world.