Hall of Heroes Super Hero Museum
Elkhart, Indiana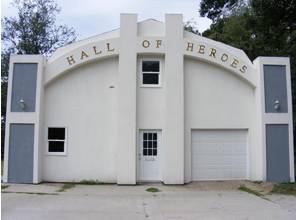 The Hall of Heroes Superhero Museum was founded by Allen Stewart and is located in Elkhart, Indiana. It is in a two story recreation of the Hall of Justice from the 1970's Superfriends animated series.
The museum's collection is one of the largest comic book and super hero collections in the World and has been featured on tv several times including the popular FX collectibles show. The inside features a replica of the Batcave from the 1960's Batman tv show complete with Batpole to slide down into the Batcave section of the museum.
The Hall of Heroes collection is the result of 25+ years of collecting by Allen and includes over 50,000 comic books from the 1940's to present! Hall of Heroes also features over 100 pieces of ORIGINAL comic book and animation art by famous artists Alex Toth, Jim Aparo, Steve Bissette, Curt Swan, Ethan Van Sciver, Trent Kaniuga, Pablo Marcos, Carmine Infantino, Brandon Peterson, Mart Nodell, Keith Pollard, Scott Rosema, and many more!
Also featured in the collection are original movie and tv props such as a Batarang used on the set of Batman and Robin and the ORIGINAL costume worn by William Katt of the tv show the Greatest American Hero.
Several special sections are featured throughout the museum such as the Golden Age and Silver age of comics featuring several original comics from these era's such as Amazing Fantasy 15 and X-MEN #1 as well as super hero toys from these era's as well. Also featured are special displays for Hanna-Barbera, Greatest American Hero, Super Friends, Batman, Superman, Green Lantern, Spiderman, X-MEN, Marvel and DC Comics.
Tours are available by appointment only by calling 574-522-1187 or 574-293-0755. Admission is $5.00 per person or $3.00 for children 10 and under. Hall of Heroes Super Hero Museum is located at 58005 County Road 105, Elkhart, Indiana 46517.
Museum Photos