Art Gallery
Comic Book Art
---

This Google based imagery collection features Superman paintings & artwork from the Superman's debut in 1938 through today.
Movie Images
---

This Google based collection of images from all the Superman movies starring Christopher Reeve, Brandon Routh, and Henry Cavill.
1950's TV Images
---

This Google based gallery showcases memorable scenes from the "Adventures of Superman" television series including the entire cast.
Returns Gallery
---

A collection of official wallpapers from the Superman Returns movie which debuted in 2006 starring actor Brandon Routh.
Lois & Clark Gallery
---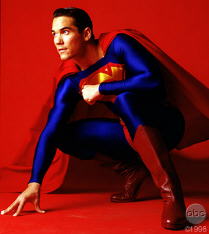 This collection features images from the early 90's series that marked Superman's return to network television.
Smallville Gallery
---
This gallery features images from the hit TV series 'Smallville' which aired from 2001 - 2011.