December 3, 2012: Rumored Villian in "Justice League" Movie Revealed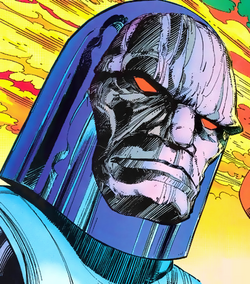 Rumors continue to swirl in regard to DC Entertainment's 2015 big-screen adaption of their tentpole comic series, "Justice League" and today only adds to the speculation of what the film may have in store for audiences.
According to a report from the fine folks at Latino Review, the main antagonist in the film will be none other than the ruler of Apokolips, Darkseid!
Darkseid was created by the late Jack Kirby and made his comic book debut in November, 1970 in "Superman's Pal Jimmy Olsen #134" and has since been a primary villain of both Superman and the Justice League for 40+ years.
In addition to his various comic book appearance, Darkseid has also been featured in television shows such as "The Super Friends", "Superman: The Animated Series", and "Justice League Unlimited." He was also featured as the primary antagonist in the tenth and final season of the hit live-action series, "Smallville."
Considering that a extremely powerful threat to the entire planet would be needed to result in a team-up of all the members of the Justice League, it would seem to make sense that a villain like Darkseid would definitely fit the bill.
However, other than "Gangster Squad" scribe, Will Beall writing the screenplay for the film, Warner Bros. has yet to release any official word in regard to "Justice League" and this latest news should be treated as strictly rumor for now.
The other most recent rumor surrounding "Justice League" was that "The Dark Knight Rises" actor Joseph Gordon-Levitt was going to star as Batman in the film. This rumor has since been debunked by the actor's representatives.
"Justice League" is scheduled for a Summer, 2015 release which will pit it up against Marvel Studio's sequel to their 2012 mega-hit, "The Avenegers."