August 27, 2012: The Forgotten Supermen - Karol Krauser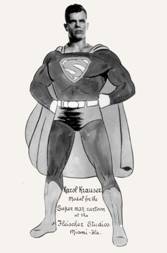 The Superman Super Site is proud to introduce a new weekly series entitled "The Forgotten Supermen" where, each Monday, we will feature an actor that has portrayed the Man of Steel in a particular form of media such as television, film, or radio.
This week's forgotten Superman is wrestler Karol Krauser who was the model for the 1940's animated Superman shorts by Fleischer Studios.
Krauser was born Karol Piwoworczyk in Hollyoke, MA on August 24, 1912. Following two years (1939 & 1940) of modeling work at Fleischer Studios, Krauser would pursue a wrestling career which eventually led to him being part of the Kalmikoffs; a professional wrestling group of fictitious Soviet brothers consisting of Karol, Ivan (Edward Bruce), Nikita (Nikita Mulkovitch) and Stan (or Igor) (Eric Pomeroy).
The original two members (Karol & Ivan) made their debut on October 28, 1953 in Amarillo, Texas against George and Jack Curtis. The duo eventually became a successful tag team in the Minneapolis territory (future American Wrestling Association) and in Canada winning several titles.
In 1962, after the formation of the AWA, Karol shortly left the promotion and Ivan begun teaming with another brother, Nikita with some success. After Karol returned to the AWA, the original duo won the AWA World Tag Team Championships.
By 1963, Ivan settled into a part-time job in the Detroit zoo as a landscaper and Karol began teaming with yet another "brother", Stan Kalmikoff, sometimes called Igor. Ivan would later spend some time managing Mighty Igor Vodic while the other "brothers" moved on to other gimmicks.
Sadly, Karol passed away on September 12, 1964 after suffering a fatal heart in Salt Lake City, UT which would lead to the Kalmikoffs disbanding in 1965.