June 17, 2013: "Man of Steel" Soars to $113.1 Million at Box Office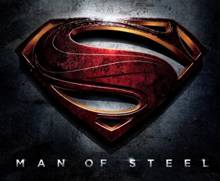 by Neil A. Cole
Following a $21 million dollar opening on Thursday night, "Man of Steel" soared to a record breaking $113.1 million dollars at the box office over the weekend.
Zack Snyder's reboot of the Superman film franchise easily beat "Toy Story 3" ($110.3 million) to take the record for the largest June opening on record. The film also easily surpassed the initial talley for "Superman Returns" which earned $52 million during its opening weekend in June, 2006.
Although "Man of Steel" has received mixed reviews, at the time of this writing the film currently has a 56% fresh rating among critics on RottenTomatoes while fans have given it an 82% rating.
Warner Bros. was cautious to not move forward on a sequel until the studio received the box office results. Now that the film performed better than expected, a sequel as well as the long delayed Justice League film have been green-lit and put on the fast track.
"Man of Steel" stars Henry Cavill as Superman in the film from director Zack Snyder. The film also stars three-time Oscar® nominee Amy Adams ("The Fighter") as Daily Planet journalist Lois Lane, and Oscar® nominee Laurence Fishburne ("What's Love Got to Do with It") as her editor-in-chief, Perry White. Starring as Clark Kent's adoptive parents, Martha and Jonathan Kent, are Oscar® nominee Diane Lane ("Unfaithful") and Academy Award® winner Kevin Costner ("Dances with Wolves").
Squaring off against the superhero are two other surviving Kryptonians, the villainous General Zod, played by Oscar® nominee Michael Shannon ("Revolutionary Road"), and Faora, Zod's evil partner, played by Antje Traue. Also from Superman's native Krypton are Lara Lor-Van, Superman's mother, played by Julia Ormond, and Superman's father, Jor-El, portrayed by Academy Award® winner Russell Crowe ("Gladiator"). Rounding out the cast are Harry Lennix as U.S. military man General Swanwick, as well as Christopher Meloni as Colonel Hardy.
"Man of Steel" is being produced by Charles Roven, Emma Thomas, Christopher Nolan and Deborah Snyder. The screenplay was written by David S. Goyer, from a story by Goyer and Nolan, based upon Superman characters created by Jerry Siegel & Joe Shuster and published by DC Comics. Thomas Tull and Lloyd Phillips are serving as executive producers. "Man of Steel" opened nationwide on June 14th and is distributed worldwide by Warner Bros. Pictures, a Warner Bros. Entertainment Company.