May 27, 2012: New Superman Book Receiving Rave Reviews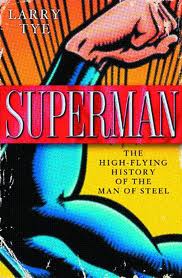 Leading up to his appearance at the 34th Annual Superman Celebration in Metropolis, IL and the debut of his latest book, "Superman: The High Flying History of America's Most Enduring Hero", author Larry Tye is already receiving rave reviews for the new publication.
During a recent phone call, Tye informed the Superman Super Site that USA Today has declared his book as one of it's three hot summer reads and, more precisely, named Tye one of three hot summer authors.
Furthermore, Janet Maslin, book reviewer at the NY Times, recently wrote "The coolest biographical subject [of the summer] is a comic-book character. She went on to write, "We know our times by our heroes, and Larry Tye's "Superman" is a study of how one superhero has made himself adaptable to the different eras in which he has thrived... The importance of his thorough book is best summarized by something Joe DiMaggio once said to his teammate Lefty Gomez: "Lefty, you know what day today is?" Lefty said it was Wednesday. "No, no," Mr. DiMaggio said, "today is the day the new Superman comes out."
Noel Neill, who starred as Lois Lane in the "Adventures of Superman" stated that "Larry Tye's Superman is the book I wish I had written years ago" while her co-star Jack Larson, who starred as Jimmy Olsen on the popular tv series stated "I understand it all for the first time."
Richard Donner, who directed "Superman: The Movie" also had praise for Tye's book stating "I only wish I had the good fortune of reading Larry Tye's book, Superman, before I made Superman, the Movie."
Fans attending the 34th Annual Superman Celebration will not only have an opportunity to meet Tye, but also purchase "Superman: The High Flying History of America's Most Enduring Hero" a week before it debuts in bookstores on June 12th.
Other guests joining Tye at this year's Superman Celebration include actor John Glover (Lionel Luthor - Smallville), actress Cassidy Freeman (Tess Mercer - Smallville, actor Gerard Christopher (Superboy/Clark Kent - Adventures of Superboy), actor Johnny Rockwell (Superboy/Clark Kent - 1961 Superboy Pilot) and writer/illustrator George Perez (Avengers, Teen Titans, and Wonder Woman).
The 34th Annual Superman Celebration takes place June 7th - 10th, 2012 in Superman's Hometown of Metropolis, IL. For more information and updates, visit SupermanCelebration.net.