April 4, 2013: Legendary Comic Artist Carmine Infantino Dead at 87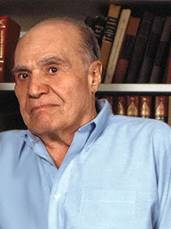 by Neil A. Cole
Former DC Comics Publisher and legendary comic book artist Carmine Infantino has died at the age of 87. Fellow colleagues George Pérez and Arlen Schumer first reported on Infantino's passing on Facebook.
Infantino was born May 24, 1925 in Brooklyn, New York City to parents Pasquale "Patrick" Infantino and Angela Rosa DellaBadia.
Best known for his work on The Flash, Infantino illustrated the character's adventures in various intervals from 1947 to 1985. The debut of Barry Allen in 1956's Showcase #4, written by Bob Kanigher and illustrated by Infantino and Joe Kubert, is generally considered the official start of the Silver Age of comics. The Flash #123, "Flash of Two Worlds," was illustrated by Infantino and introduced Earth-Two, an enduring DC concept still in use.
At DC, Infantino served in a number of managerial positions, including art director starting in 1966, editorial director in 1967 and, from 1971 to 1976, publisher. During Infantino's leadership period, DC hired influential creators including Jack Kirby, Neal Adams and Denny O'Neil; and published first-ever Marvel/DC crossover Superman vs. Spider-Man. Infantino was also involved in the development of Superman: The Movie.
Infantino later drew for a number of titles for Warren Publishing and Marvel, including the latter's Star Wars, Spider-Woman, and Nova. During Infantino's tenure on the Star Wars series, it was one of the industry's top selling titles.
In 1981, he returned to DC Comics and co-created a revival of the "Dial H for Hero" feature with writer Marv Wolfman in a special insert in Legion of Super-Heroes #272 (February 1981). Infantino returned to The Flash title with issue #296 (April 1981) and drew the book until its cancellation with issue #350 (October 1985). Other projects in the 1980s included penciling The Daring New Adventures of Supergirl, a Red Tornado miniseries, and a comic book tie-in to the television series V. In 1990, he followed Marshall Rogers as artist of the Batman newspaper comic strip and drew the strip until its cancellation the following year.
During the 1990s Infantino also taught at the School of Visual Arts before retiring. Despite his retirement, Infantino made appearances at comic conventions in the early 21st century.