Tom Welling 1977 -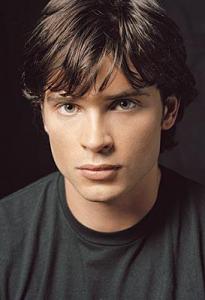 Tom Welling was born in Putnam Valley, New York. Welling is the son of a now retired General Motors executive and a homemaker. He is of Irish and German descent. He has two older sisters, Rebecca and Jamie, and a younger brother, Mark, who is also an actor. His father's job required frequent relocation, and Welling's family moved from Putnam Valley, New York to Janesville, Wisconsin, then to Hockessin, Delaware, until finally settling in Okemos, Michigan early in his junior year of high school. Active in several team sports including baseball and basketball, Welling was also a third string soccer goalkeeper. He graduated from Okemos High School in 1995, and then worked in construction while continuing to live with his parents.
In 1998, Welling was discovered by a catalogue camera scout at a party in Nantucket who suggested he try modeling. In 2000, Welling relocated to Los Angeles where he modeled for Tommy Hilfiger, Abercrombie & Fitch, and other print ad campaigns, while pursuing an acting career. He appeared in some commercials and a music video.[1] Welling's first major acting role was as karate teacher Rob Meltzer, a younger love interest of Amy Brenneman on the CBS series Judging Amy that aired in 2001. Welling also had a small role in UPN's Special Unit 2 and also appeared in the debut episode of the FOX sitcom Undeclared. He was cast in series Smallville after a nationwide search for the actor to play Clark Kent. Smallville explored the early years of Clark growing up in the times before he becomes Superman. The Pilot aired in October of 2001 and became the highest rated debut for The WB, with 8.4 million viewers.[2] He told TV Guide that he originally turned down the lead role twice, but after reading the script, decided to take the job. He was named one of People magazine's Breakthrough Stars of 2001 and also won the Teen Choice Award as Choice Breakout Star (Male) in 2002 for his role as Clark.[3] The 100th episode of Smallville aired in January of 2006 and the series is currently in its seventh season.
In December 2003, Welling played Charlie Baker, the oldest son in a family of 12 children in the film Cheaper by the Dozen, a remake of the 1950 original. The film also starred Steve Martin and Hilary Duff. In 2005 Welling appeared in two other films as well. He played Nick Castle in The Fog which was a remake of John Carpenter's 1980 film. He also reprised his role as Charlie Baker in Cheaper by the Dozen 2. Despite internet rumors, Welling was not considered for the part of Superman in the 2006 film Superman Returns. [4] Welling also marked his directorial debut in 2006, with the season five episode of Smallville, Fragile. He directed a second episode during season six - Hydro. In April 2007, it was reported that Welling had signed on for an 8th season of Smallville. However, no formal announcement has been made.
Welling married his long time girlfriend Jamie White on July 5, 2002, in Martha's Vineyard, after a four year relationship. He lives in Los Angeles with his wife and dogs. During the filming of Smallville, however, he stays in Vancouver.