Brandon Routh 1979 -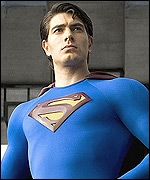 Hoping to recreate the legendary casting of little-known, lantern-jawed soap actor Christopher Reeve as Superman in the '70s, the producers of a new Superman film have chosen Brandon Routh, a little-known, lantern-jawed soap actor, as the next actor to don the cape.
Routh was born October 9th, 1979 in Des Moines, Iowa and grew up in nearby Norwalk. He attended the University of Iowa and starred in many productions at the Norwalk Theater of Performing Arts. His first professional acting role was in the ABC television series "Odd Man Out," and he went on to guest star in the series "The Gilmore Girls" and "MTV Undressed."
On the series "One Life to Live", Routh created the role of Seth Anderson in May, 2001. Unfortunately, this acting role only lasted until April of 2002 at which point Brandon was released from his contract and replaced by actor Steve Harris.
Routh did not take the firing very well and ranted on his Web site, claiming that producers would get their just desserts in the afterlife. He deleted his comments quickly, but a few soap sites saved a copy:
"On Thursday I was released/fired/terminated (whatever you wanna call it) and replaced. There will be a new Seth Anderson.
I am not truly saddened by this turn of events ... in fact I am quite relieved. I have gained much and will now move on. I am saddened however by the lack of respect and humanity expressed by those in control of the show. Instead of being open and honest with me they were conniving and malicious. They actually had me come in to work Thursday, for four hours ... then called me up to tell me they were releasing me! I do not stand for such treatment and this is one reason I am happy that I am no longer in league with people who can't give me respect. They would rather hide than be confronted with the actions they take. Know this everyone, if you can't deal with the consequences of your actions ... seriously rethink your action ... because you may get far in this world ... but this world is not the world that matters.
That said, I will leave God to judge those who have wronged me. And I do forgive them, in hopes that someday they will understand what they have done.
You gotta love someone who evokes God's patient but ever certain wrath upon the people who trespass against him."
Superman Role
Prior to Routh's casting as Superman, Warner Bros. had spent over a decade developing a plan to relaunch the franchise, with possible stars including Nicolas Cage and planned helmers including Tim Burton, Wolfgang Petersen, McG, Brett Ratner and Shekhar Kapur. Initially the studio reportedly considered a roster of name actors for the iconic role, including Josh Hartnett, Ashton Kutcher, Jude Law, Brendan Fraser, Jim Caviezel and Smallville star Tom Welling. But when Bryan Singer came aboard to direct the film, he insisted that a fresh face be cast to play the part of the famed comic book superhero in the tradition of film's most famous Man of Steel, Christopher Reeve.
Routh, then 25, who won a Hollywood Halloween costume contest in 2003 by dressing as Clark Kent with his shirt open to reveal the Superman "S" underneath had previously auditioned for McG and was tapped by Singer after extensive casting calls in the United States, United Kingdom, Canada and Australia. Impressed by his resemblance to the comic book icon and finding the actor's humble Midwestern roots a perfect fit for the hero's all-American persona, within the first few minutes of meeting Routh, Singer knew "[Routh] is my Superman."
Within hours of the October 2004 casting announcement Routh's name filled an endless array of Internet pages devoted to discussing his worthiness for the role. For his part, the actor kept a low profile to help build anticipation for the film.
Recently however he did step out further into the Hollywood realm by being a presenter with former Lois and Clark star Teri Hatcher at the Golden Globe Awards. He also presented for the Academy Awards on March 5, 2006 as well.
Filming for the movie Superman Returns began in Australia in February 2005. The film debuted on June 30, 2006.
Criticism
Not surprisingly, and like Christopher Reeve before the first Superman movie, he has been heavily critized within the comic book community and he has been met with negative expectations by many. The three most repeated statements are that he looks "too young", "too small" (similar comments were also made about Christopher Reeve) and "like Jason Schwartzman." In particular he has been criticized for not being muscular enough to be the Man of Steel, and is frequently compared to Christopher Reeve the former Superman and Tom Welling the current Clark Kent in the TV series Smallville. According to the site Celebrity Heights, [1]Reeve was 6'4" and both Welling and Routh are 6'2.5", and people still dispute who has the bigger frame for Superman. Some argue that's an unfair comparison, especially with Welling, since there are so many pictures of him both with and without his shirt, and so few pictures of Routh at this stage (e.g. this one). While some people think they do appear more muscular than Routh, others disagree.
Others have said he hasn't put as much effort into the physical side of the role as Christian Bale did for Batman, but he was at the right size as required by the production of Superman Returns and it is the performance that matters and he has yet to be seen on film. Recently it has surfaced that he wore a muscle suit within the Superman costume, which although was used by every actor who wore a skintight suit in recent superhero movies, like Tobey Maguire in the Spider-Man movies, Chris Evans and Ioan Gruffudd in Fantastic Four, does nothing drastic and is used to show muscle definition, it does make him look more muscular which is considered a letdown by his detractors. It has to be said that he has been met with approval by many Superman fans and writers including Jeph Loeb and Mark Waid.
In July 2005, director Bryan Singer presented a special 5-minute preview of the movie at the San Diego Comic-Con, and got a standing ovation. Legendary comic book artist Jim Lee said he felt a "jolt of energy" after watching the preview. Many people that doubted Routh before were convinced he would be a great Superman after watching the footage.
When asked about how to handle the big changes that will come after Superman premieres, he said that he doesn't know exactly how he'll be ready for it, but he knows to "prepare to be prepared".
In his spare time, Routh enjoys playing soccer and basketball, swimming, biking and reading.
Quotes
[Talking about his work with a movement coach to capture Superman's physical presence]: "We worked on posture. Spine straight, hips forward, neck in line - just a clean motion moving through the world. [On the bright side] I slouch less."
[Talking about wearing the Superman costume]: "Very confining. But once you get past that - which is sometimes hard - it's also very empowering. First time I put it on, I felt... stronger. Like a different level of who I am. It makes playing the character much easier."
[When asked if he's ready for the changes that will follow in his life upon being cast as Superman]: "I have no idea. But I am prepared to be prepared."