Mark Pillow 1959 -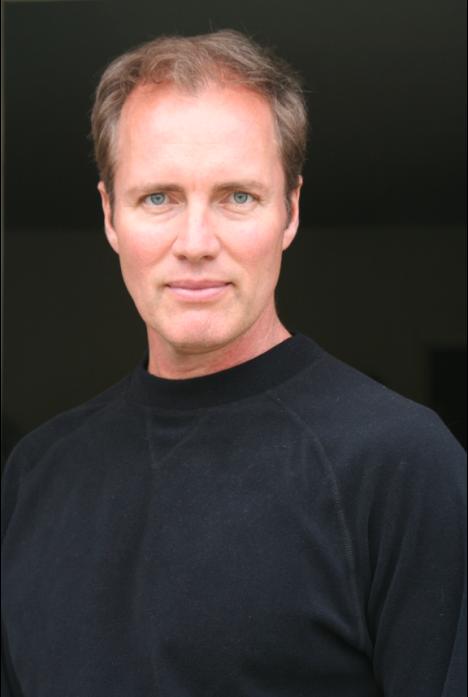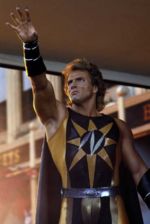 Although he had never appeared in a movie before, Mark Pillow fit all the requirements to play Nuclear Man to perfection. He stands 6ft. 4in. (the physical equal of Reeve) with blue eyes and blond hair which made him the screen's new golden boy.
Mark was born in Leeds, England on April 14, 1959 where his U.S. Air Force officer father was stationed. His mother is English, so he's no stranger to commuting across the Atlantic to add his support to Anglo-American relations.
Nothing in Mark's background suggested he would some day be a leading contender for movie fame. Far from it. He was restless as a young man and travelled extensively around the world while trying his hand at a variety of jobs, none of which seemed to suit his temperament.
Being the son of a military father, his travels took him through Europe, Brazil, Libya, Liberia and West Africa. "Then my family finally settled down in Houston, Texas," says Mark. "It was there I attended university taking a course in business studies, but I became a drop-out when that didn't seem right for me.
"One of my other subjects was nuclear energy," he laughs, "so perhaps it was always on the cards that I should play Nuclear Man. Maybe those years were spent in preparing for the role!
"But I had a lot of other jobs, too. I worked for an airline company for a time, then as a telephone lineman and later as a labourer on an oil rig. When I moved back to Los Angeles I was a bartender in nightclubs which left me free to take acting classes during the day.
"My first professional roles came in some unmemorable television shows which did nothing for my career. That all changed when I heard through the Hollywood grapevine that Cannon were looking for someone to play Nuclear Man in Superman IV.
"It was the first film in the series to be shot entirely in England, so that brought me back to this country again. Apart from the studio work at Elstree, a lot of the shooting was done on location at Milton Keynes which doubled for the city of Metropolis."
When the casting came for Nuclear Man, Mark obviously had a lot going for him. "They needed someone who was athletic for the part," he says. "I've always been interested in sports so I guess I must have passed on that score. I work out daily in the gym back home, and also while I was here in London.
"My favourite sports are football, baseball, swimming and the martial arts. Nuclear Man had to have a good head for heights. Like Superman, there was all that flying around to do. The clincher came when the producers heard I do handgliding and skydiving. I've competed in both sports professionally." The role needed someone who could do these things, so they must have counted in my favour." As well as Mark's Californian tan, of course.
The final stroke of luck was that the son of Sidney Furie, the Canadian director of Superman IV, worked in the same talent agency that represented the actor in Los Angeles.
Like all good agents, he had Mark's photos on file and was able to produce them when his father was casting. A twenty-minute chat with Furie and he had no need to look further for Nuclear Man.
"I had a great time during the weeks I was playing the part," recalls Mark. "There was a lot of physical stuff required, of course, which made a big demand on the actors. The toughest test was getting used to the wires for the flying scenes. Chris Reeve as Superman could handle them as he'd played the part before, but it was all new to me.
"We had a lot of fight scenes together. Nuclear Man had a real mean streak and he knocked down the Great Wall of China just for the fun of it. He could also melt iron bars just by touching them. Superman didn't get all his own way in that film. My character represented his biggest challenge yet. We circled the globe before we came face-to-face for the final climax. It was a real duel in the sun.
"John Bloomfield designed the special costume I wore in the film and Stuart Freeborn, who worked on "2001: A Space Odyssey", developed this special golden look which gave me a kind of glowing effect. Nuclear Man was conceived in Lex Luthor's hideaway on top of the Metropolis Tower Building and incubated in a nuclear reactor in the core of the sun."
When the Royal Command Performance screening of "Superman: IV - The Quest for Peace" took place in London, Mark had the honor of being seated with Prince Charles and Princess Diana.
Unfortunately, the film would go on to underperform at the box office and did nothing to help Mark's career. He has since only appeared in two television shows, as Russell Haynes in an episode of the 1987 - 1990 series "Wiseguy" starring Ken Wahl entitled "Smokey Mountain Requiem" and a recurring role on the 1993 Russian series "Alaska Kid" which was directed by Oscar winning director James Hill and also starred Donovan Scott.
The series was filmed in Russia, Czechoslovakia and Poland, where Mark met his future wife Magdalena.
Mark currently resides in Spring, Texas with his wife Magdalena and two daughters, Megan & Jessica. He has retired from acting and currently works as a currently works as a fine wine sales representative where he is privileged to be associated with some of the finest and most prestigious wines in the world.
Exclusive Superman Super Site Interview