John Haymes Newton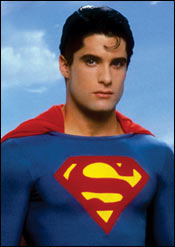 John Haymes Newton portrayed "Superboy" in 1989 during the first season of "The Adventures of Superboy" before being replaced by Gerard Christopher.
Mr. Newton was born December 29, 1965 in Chapel Hill, NC. After an impressive stage debut as the male lead in the Robert Allan Ackerman directed "OUR TOWN" for which he received rave reviews, John moved to Los Angeles to pursue his acting career.
John soon gained the starring role of "Tony Pagano" on "THE UNTOUCHABLES." His other television credits include recurring roles on "WALKER, TEXAS RANGER" opposite Chuck Norris, "MODEL'S INC.", and "MELROSE PLACE" as Ryan McBride. Besides television, he has film credits which include a featured role opposite Ethan Hawke in "ALIVE" directed by Frank Marshall and lead roles in "COOL AS ICE" and "DESERT KICKBOXER". Recent film performances include starring roles in "GOODBYE AMERICA" co-starring James Brolin and "DARK TIDES."
In 2011, Newton and his wife Jennifer lent their voices as Clark Kent/Superman and Lois Lane, respectively, in the animated fan film Superman Classic by veteran animator Robb Pratt.