Win Mortimer (1919 - 1998)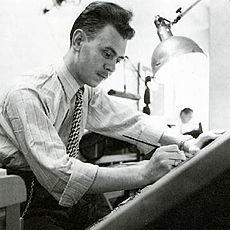 Win Mortimer was born May 1, 1919 in Hamilton, Ontario, Canada. Trained as an artist by his father, who worked for a lithography company, and at the Art Students League of New York, Mortimer found work as an illustrator after a short stint in the Canadian Army during World War II. Discharged in 1943, Mortimer found work designing posters.
Mortimer began working for DC Comics in 1945, and quickly became a cover artist for comics featuring Superman, Superboy and Batman. His first known comics work is as the penciler and inker of the 12-page lead Batman story, "The Batman Goes Broke" by writer Don Cameron, in Detective Comics #105 (Nov. 1945); contractually credited to Bob Kane, it is also signed "Mortimer." Mortimer launched a Robin feature in Star-Spangled Comics #65 (Feb. 1947).
He succeeded Wayne Boring on the Superman newspaper strip in 1949, leaving it in 1956 to create the adventure strip David Crane for the Prentice-Hall Syndicate. Following his run on that series, Mortimer produced the Larry Bannon strip for the Toronto Star beginning in 1960.
During the same period, Mortimer returned to DC and worked on a large variety of comics, ranging from humor titles such as Swing with Scooter to superhero features starring the Legion of Super-Heroes and Supergirl. He and writer Arnold Drake co-created Stanley and His Monster in 1965.
By the early 1970s, Mortimer was also freelancing for other publishers, including Marvel, for which he drew virtually every story in the TV tie-in children's comic Spidey Super Stories, starring Spider-Man, for its entire, 57-issue run (Oct. 1974 - March 1982); and Gold Key (Boris Karloff Tales of Mystery, The Twilight Zone). He left comics in 1983 to do advertising and commercial art for Neal Adams' studio, Continuity Associates.
Mortimer's last superhero art was the four-issue DC miniseries World of Metropolis (Aug.-Nov. 1988), plus some character drawings for the reference Who's Who in the Legion of Super-Heroes #7 (Nov. 1988). His final comics work was penciling the four page "Noble Heart" story for The Big Book of Martyrs (Aug. 1997).
Sadly, Mortimer passed away Sunday, January 11, 1998 following a six-month long battle with cancer. He was inducted posthumously into the Canadian comics' creators Joe Shuster Hall of Fame in 2006.