Mayo Kaan 1915 - 2002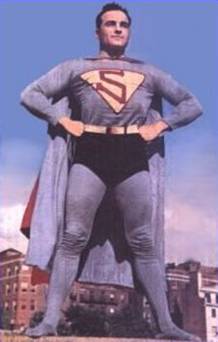 by Neil A. Cole

Mayo Kaan of Lynnfield, Mass. placed advertisements in several newspapers and magazines in November, 1997 claiming he was the model for the original Superman comic book series. People willing to pay as much as $1,000 could share in the ''historic first-ever release'' of reproductions of the original photographs taken of Kaan allegedly modeling for artists creating the series.

The response from DC Comics was that the cartoon character was conceived by author Jerry Siegel and illustrated by Joe Shuster years before Kaan began masquerading as the Man of Steel.

"Kaan played no role in creating the superhero's image," said DC Comics attorney Lillian Laserson. "Kaan's billing himself as something he is not." Ms. Laserson went on to say that she had sent Kaan a letter demanding that he stop claiming he was the original model.

In a prepared response, Valerie Kaan, president of Kaan Entertainment and Kaan's daughter, said the advertisement was accurate and that "we doubt that the people criticizing Mr. Kaan were even born when the events occurred between Mr. Kaan and the creators of Superman."

Despite the costume change that occured in 1998, the claims of Mayo Kaan were the first Superman controversy '"where people are in a position to get hurt," according to Danny Fuchs, a Queens, N.Y., resident generally regarded as the leading authority in Superman memorabilia. "These photos have no value, yet there's a lot of money being charged to people who probably don't know better," Fuchs said.

In a two-page advertisement in the December, 1997 issue of Boston magazine, Kaan, a retired gym owner, claimed that Siegel and Shuster asked him to model for them in 1936.

It does take X-ray vision to spot an apparent inconsistency with the sequence of dates. One of Kaan's supposedly original poses shows him on the steps of a building that patrons of the Boston Esplanade will recognize as the Hatch Shell - which was built in 1940, four years after he allegedly modeled for Shuster. Martin Greim, a Natick, Mass. resident and Superman historian, has another gripe. He said he has personal correspondence from the late Joe Shuster stating that Shuster never knew a Mayo Kaan.

In spite of all the inconsistencies and possible lawsuit with D.C. Comics, Mr. Kaan stood firmly by his story until his death on July 9, 2002.