Tim Daly 1962-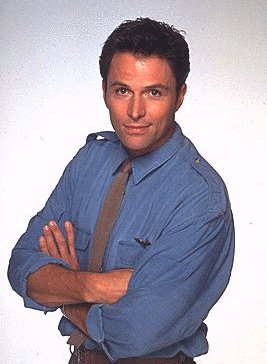 Tim Daly provided the voice for mild-mannered reporter Clark Kent and his caped alter ego, Superman, in Warner Brothers' "Superman: The Animated Series".
"I've never done any voice-over work before and it's great!", says Mr. Daly. "This show is hipper, with very high quality, and a little darker than what people are used to."
Daly is best remembered for his character of Joe Hackett on NBC's hit comedy series "Wings." But his acting career started far away from Hollywood while he was still a student at Bennington College, studying theater and literature and working in summer stock. His first film lead came in Barry Levinson's "Diner", and he went on to parts in "Made In Heaven" and the American Playhouse production of "The Rise & Fall Of Daniel Rocket". Other early roles included the Judith Krantz-based mini-series "I'll Take Manhattan", "Red Earth-White Earth", and "Mirrors" as well as the groundbreaking dramatic series "Almost Grown".
Daly earned a coveted Theater World Award and a Tony nomination for his performance in the Broadway production of "Coastal Disturbances." His other stage work includes "Olivier, Olivier" at the Manhattan Theater Club, "Mass Appeal" and "Bus Stop" at Trinity Square Rep, "The Glass Menagerie" at the Sante Fe Festival Theater, "A Knife in the Heart" and "A Study in Scarlet" at the Williamstown Theater, and "Paris Bound" at the Berkshire Theater Festival.
Daly also starred in the NBC Movie-of-the-Week, "In the Line of Duty: Ambush in Waco", Alex Haley's "Queen", one of CBS' most acclaimed mini-series, the feature film "CAROLINE AT MIDNIGHT" with Mia Sara, Judd Nelson, and Virginia Madsen, and the USA cable film, "A Dangerous Heart". Recent film projects include Columbia Pictures' "YEAR OF THE COMET", directed by Peter Yates from a script by William Goldman.
While the series "Wings" that first introduced Mr. Daly to Hollywood is gone, there is no shortage of projects for this talented actor to pursue. Whether its "The Man of Steel" or "Dr. Jekyll & Ms. Hyde", Tim Daly doesn't seem to be slowing down.