Scott Cranford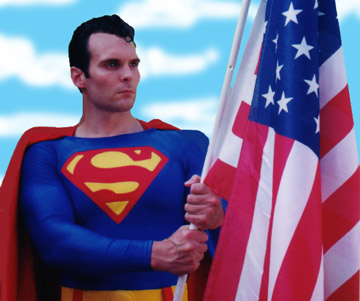 Actor and body builder Scott Cranford was the official Superman of Metropolis, Illinois from 2000 until 2007. The story behind how this Glendale, California native wound up as the Man of Steel is an interesting one. For more than two decades, Metropolis' Superman fervor has been displayed in its annual celebration, an event that has grown to draw approximately 15-20,000 visitors during the four day event - more than the population of the city itself. The celebration even features a live performance of a mock fire and bank robbery each year, with a real "Superman" coming to the rescue.
While this role has traditionally been performed by local talent, in May of 2000, the city had no one that fit the superhero criteria. And as the June event grew nearer, the organizers worried that there would be no Superman that year.
That's when an article about the dilemma was picked up by a wire service which took the story nationwide. The ensuing media coverage would shine the national spotlight on the quaint little town of Metropolis, and Scott Cranford, the man who would become the "Official Superman".
In classic Hollywood-discovery style, Scott Cranford heard about the city's urgent search for Superman one day while listening to the radio. For the first time in his life, he donned the traditional Superman attire and trademark cape, had pictures taken, and submitted them along with his resume to the organizers of the Metropolis Superman Celebration. Remarkably, he had the perfect look and body build for the role, and out of over 100 entries from around the world, he was designated as the city's "Official Superman" for not only the 2000 celebration, but each celebration that will follow year after year.
But Scott is no newbie to the world of superheroes. He says that as a young boy, he grew up reading comic books and made superhero movies with his brothers. A former professional body builder, Cranford is now an actor who seeks out roles in action and superhero movies. He has appeared in Batman Forever, Batman Returns, Batman and Robin, Eraser, and Predator 2. His credits also include several television soaps, including the character Chris on ABC-TV's General Hospital, Stan on CBS-TV's The Bold and the Beatutiful, and NBC-TV's Sunset Beach.
Scott is also the founder of Heroic Productions and has produced a Superhero Entertainment website for children called HeroicWorld.com. Scott says that the web site's purpose is to motivate, inspire and entertain. Scott wants kids to know that there is always a free place where they can go that will tell them they are good and provide them with plenty of inspiration. He says parents should also note that HeroicWorld.com is good old fashioned fun. There is no nudity or profanity and good always triumps evil in a non-violent way.
In this process, he has demonstrated that he is an individual with many diverse talents. Scott not only created all 25 heroes for the site, but has also written and illustrated all the stories for the online comic series.
The stories, which teach kids social and environmental responsibility, feature superheroes including "Sharpman", the most intelligent man in the universe, and "The Earth Avenger", who sets out to teach the Earth people how to treat their planet.
The site includes reviews of Superhero movies (rated on a five "bolt" scale), as well as what's happening in the world of superhero comic books, and scroll-along cliffhanger adventures to read online.
Scott says that his passion for superheroes stems from his own experience and belief that superheroes are inspirational and give kids a moral standard to live up to. He feels that there is a lack of individuals for kids to look up to, and he has always aspired to be such a role model for children. Scott may just be the next Horatio Algers of the Superhero world.