November 11, 2013: Terry O'Quinn in Cotention for Lex Luthor Role?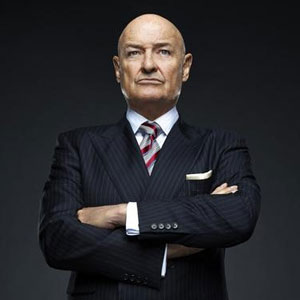 by Neil A. Cole
Director Zack Snyder confirmed during the recent "Man of Steel" live fan event that Lex Luthor will be featured in some capacity in the 2015 follow-up to "Man of Steel".
While it is currently unknown who will ultimately portray the iconic villain, one actor who is rumored to be among those in contention for the role is Terry O'Quinn who is best remembered for playing the character John Locke on the hit television series "Lost".
Sources close to the production, which recently set up offices in Detroit, MI which will double as Gotham City, have indicated that O'Quinn is on the short list of actors Snyder is considering for the part that was only hinted at in the first film.
As opposed to big screen roles which have included appearances in "Silver Bullet" and "The Rocketeer", O'Quinn is better known for his guest roles on such TV shows as "Miami Vice," "The West Wing," "Star Trek: The Next Generation," "JAG," "The X Files," "Falling Skies," and the updated version of "Hawaii Five-0". O'Quinn most recently starred as Gavin Doran in the ABC supernatural series, "666 Park Avenue".
Rumors at one time indicated that actor Bryan Cranston had been cast as Lex Luthor but this ultimately turned out to be false with Cranston himself saying that it was not true.
Until such time that Warner Bros. releases an official statement confirming the casting of Lex Luthor in the 2015 film, please take this latest news with a grain of salt and treat it as strictly rumor for now.
Other recent rumors have indicated that various actors are also in contention for the roles of both Wonder Woman and Nightwing. However, it remains to be seen whether or not either character will actually appear in the film.
The yet-to-be-titled follow-up to "Man of Steel" will hit theaters on July 17, 2015 and will feature Ben Affleck's debut as Batman/Bruce Wayne alongside returning stars Henry Cavill as Superman/Clark Kent, Amy Adams as Lois Lane, Diane Lane as Martha 'Ma' Kent, and Laurence Fishburne as Perry White.