August 30, 2017: "My Hero: Contemporary Art & Superhero Action" Exhibit on Display at Yellowstone Art Museum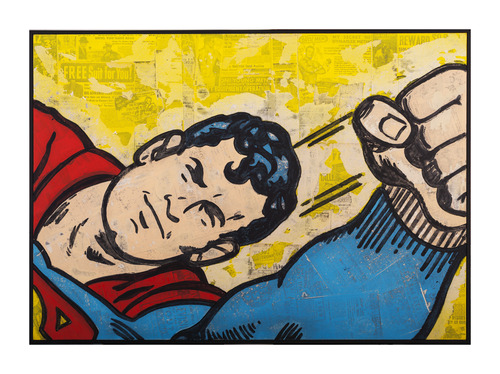 by Neil Cole

The Yellowstone Art Museum in Billings, Montana is currently hosting the "My Hero! Contemporary Art & Superhero Action" traveling exhibition which features a dynamic collection of international artworks - in a variety of media - that celebrates, examines, and re-envisions the "lives" of iconic superheroes.

For decades, popular culture has been fascinated by superheroes, their superhuman capabilities, their desire for truth and justice, and their ability to save the day. Their storylines have captivated many, and their imagery has become the stuff of contemporary idols throughout the world.

Born of the imaginings and talent of comic artists several generations ago, these imagined personalities inspire contemporary artists today who continue to tap the world of the superhero, paying tribute to the characters that were early artistic inspirations.

Some of the works featured in the exhibition include Dulce Pinzon's (Brooklyn, NY) photographs depicting the lives of immigrants as society's "real superheroes," with images of Catwoman working as a nanny and Superman delivering pizzas. Also to be featured, Mel Ramos's (Oakland, CA) oil painting of Superman (1962), which was recently on display at the de Young Museum in San Francisco, CA.

The exhibition also includes a wide array of media by an international roster of artists including Mike Alcantara, Clemintine Campardou Blule, Katherine Bradford, Robert Xavier Burden, Penny Byrne, Enrique Chagoya, Sandra Chevrier, Mark D'Alfonso, Andreas Englund, Jeremy Fisher, and Cheong-ah Hwang.

"My Hero! Contemporary Art & Superhero Action" runs through January 2, 2018 and was organized by Carrie Lederer, Curator of Exhibitions, Bedford Gallery, Lesher Center for the Arts, Walnut Creek, CA.