July 30, 2015: "Batman v Superman" Storyline Details Revealed in Empire Magazine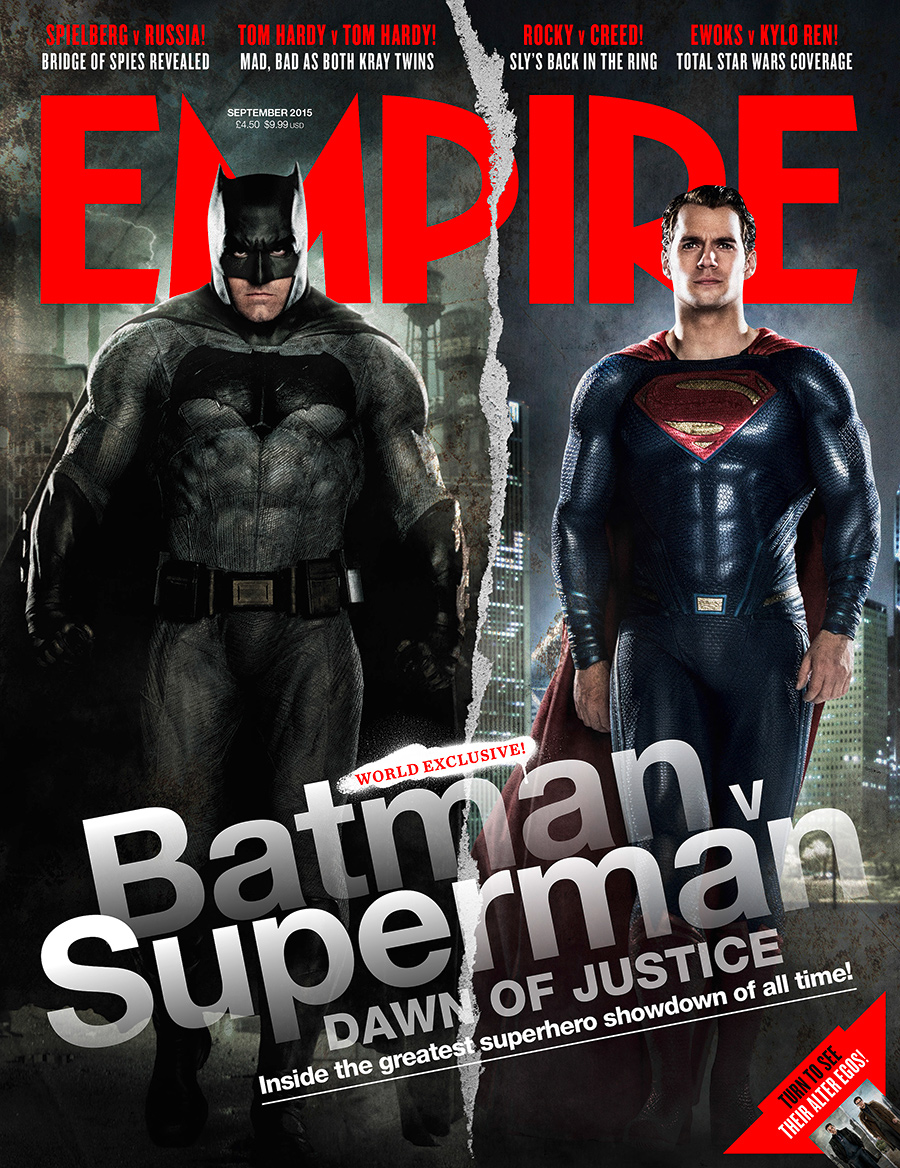 by Neil A. Cole
Following Empire Magazine's recent release of a new series of photos from "Batman v Superman: Dawn of Justice", the latest issue of the publication covering the highly anticipated film has finally hit newsstands.
Not only does Empire reveal quite a few new details about the movie, but also new information on the DC Cinematic Universe including "Justice League" and "Wonder Woman".
Fair warning, what could be classified as minor spoilers follow...
In regard to Batman's background in the movie, we learn that Bruce Wayne is 45 or 46 years old and has become a bit jaded after taking on the mantle of the Dark Knight for 20 of those years. Wayne Manor is abandoned and in a state of decay while Bruce now resides in a lake side residence - referred to by Zack Snyder as the "Glass House" - which is off the grid.
There has been at least one Robin over the years - as featured by his tattered costume in the film's trailer - and Commissioner Jim Gordon was once Bruce's friend, but both are now gone.
"He has lost those near and dear to him, and not necessarily from old age or disease," states producer Charles Roven.
As for Superman, he has fully taken on a career as his alter-ego Clark Kent at the Daily Planet and shares an apartment in Metropolis with Lois Lane who, of course, knows his true identity as the Man of Steel.
We learn that Wonder Woman's role in the film is key to shifting the story towards the formation of the Justice League. It is also revealed that five actresses auditioned for the Wonder Woman role opposite Ben Affleck, but it was Gal Gadot who blew everyone in the room away.
The stand-alone "Wonder Woman" is scheduled to open June 23rd, 2017, and will star Gadot alongside Chris Pine whose casting as Steve Trevor was officially announced a few days ago.
The Empire article also states that Jason Momoa's Aquaman role in the film will be featured as an "elusive" cameo with Snyder adding that, "You will understand he exists."
Pick up a copy of the September issue of Empire Magazine to read more about "Batman v Superman: Dawn of Justice" and Warner Bros. plans for all the upcoming films in the DC Cinematic Universe.
"Batman v Superman: Dawn of Justice" opens March 25, 2016 followed by "Suicide Squad" a few months later on August 5th, 2016.
Production work on "Justice League: Part One" is set for Spring, 2016 with a premiere date of November 17th, 2017 followed by "Part Two" hitting theaters on June 14th, 2019. Both films will feature the return of Gadot as Wonder Woman, Cavill as Superman, Affleck as Batman, and Momoa as Aquaman.