July 30, 2015: "Justice League: Gods & Monsters" Limited Edition Soundtrack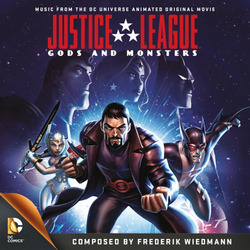 by Neil A. Cole
DC Entertainment and Warner Bros. Animation have partnered with La-La Land Records to release the "Justice League: Gods & Monsters" official soundtrack (limited edition 1000 units) exclusively at www.lalalandrecords.com on August 11, 2015. Composer Frederik Wiedmann ("Field of Lost Shoes," "Justice League: Throne of Atlantis") composed the music for the DC Universe Animated Original Movie which is currently available on DVD and Blu-ray.
"I was super excited to get to work on Justice League: Gods and Monsters with Bruce Timm, our second project together (after Green Lantern – The Animated Series)," said Wiedmann. "When I first saw the footage, I was blown away by how different everything was. Nothing was like I expected. It was a very unique, new take on our favorite superheroes, an invitation for me to reinvent myself a little bit from a musical perspective, which is a very exciting place to start a new project."
Witness a divergent reality where the Justice League protects the planet - but answers to no one but themselves. Employing methods of intimidation and fear, this Superman, Batman and Wonder Woman deal brute force in the name of justice. From the creative genius of executive producer Bruce Timm and co-producer Alan Burnett comes an original story where the world's greatest triumvirate of super heroes has distinctly different origins. Superman was not raised by the Kents in Smallville, the Caped Crusader is not Bruce Wayne, and Wonder Woman is not an Amazon warrior of Themyscira. They are as likely the world's saviors as Earth's despotic rulers. When a group of famed scientists experience untimely "accidents," a government task force follows the trail of clues to the Justice League – but is there a more powerful player operating from the shadows? It's a high stakes game of intrigue, mystery and action that asks the question: How do you serve justice to those above the law?
"Our three main heroes all have a very dark past, and as we get to learn about their backstory the music follows the tragic events of their journey beat by beat," Wiedmann described. "We recorded a wonderful group of 30 strings at East West Studios in Los Angeles (conducted by Hyesu Yang), giving the emotional aspects of the score the depth and warmth it deserves. You will also hear an array of dulcimers and guitars, as well as ethnic woodwinds (performed by Chris Bleth), mostly complimenting Wonder Woman's backstory and giving it a slightly ethnic flavor ("In Another Life")."