April 10, 2017: Screen Worn "Superman: III" Bodysuit Heads to Auction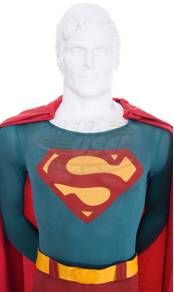 by Neil Cole

An original, screen-worn Christopher Reeve Superman bodysuit from "Superman: III" complete with trademark belt will be up for bids at the upcoming ScreenUsed Auction which takes place on April 23rd at the Silicon Valley Comic Con in San Jose, CA.

The bodysuit is accompanied by a Certificate of Authenticity direct from Warner Brothers Studios confirming its use during filming and, reportedly, is the only original Superman costume ever to be released to the public with full Warner Brothers Archives sanctioning. The studio's unique DNA encoding system allows for matching the suit with its corresponding COA at any given time, eliminating the risk of the valuable and authenticating paperwork ever being matched up with a replicated body-suit.

To adequately display the suit, it is presented on a custom muscular 'heroic' mannequin with custom sculpted Christopher Reeve head (painted in silky white to direct the emphasis towards the suit, not the sculpture) and completed with a replicated set of cape and boots. Superman's appearance is distinctive and iconic, making this costume instantly recognizable the world over.

"Collectors and fans alike will find items that match their passions on our website year-round. We have daily auctions as well as a few signature auctions each year when we make available our most iconic and sought-after items," states Desi DosSantos, co-founder of ScreenUsed. "We are thrilled to bring back our movie and television memorabilia auction to the fans and collectors at the second annual Silicon Valley Comic Con."

The full catalog of auction lots is currently available for viewing on the ScreenUsed website. The "Superman: III" bodysuit and most other lots will be on display in the ScreenUsed exhibit hall during the Silicon Valley Comic Con, April 21st - 23rd, 2017.