March 19, 2016: "Superman: The Movie" Free Library Screening in New York City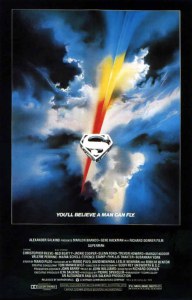 by Neil Cole

The New York Public Library's Mulberry Street branch will host a free screening of the 1978 blockbuster film, "Superman: The Movie" on Wednesday, April 12th from 4:00pm - 6:30pm.
Couldn't we all use a hero right now? Join us for Richard Donner's 1978 incarnation of the DC Comics iconic ubermensch, Superman! Godfather author Mario Puzo penned the Superman screenplay, while the production became the most expensive film ever made at the time, costing $55 million. It received a Special Achievement Academy Award for Visual Effects, ushering in the era of superhero franchise films.

Superman (1978) - Dir. Richard Donner. Starring Christopher Reeve, Margot Kidder, Marlon Brando, and Gene Hackman. Plot Summary - Unable to convince the ruling council of Krypton that their world will destroy itself soon, scientist Jor-El (Brando) takes drastic measures to preserve the Kryptonian race: He sends his infant son Kal-El to Earth. There, gaining great powers under Earth's yellow sun, he will become a champion of truth and justice. Raised by the Kents, an elderly farm couple, Clark Kent (Reeve) learns that his abilities must be used for good. The adult Clark travels to Metropolis, where he becomes a mild-mannered reporter for the Daily Planet...and a caped wonder whose amazing feats stun the city: Superman! Meanwhile, Lex Luthor (Hackman), the world's greatest criminal mind, is plotting the greatest real estate swindle of all time. Can't even the Man of Steel stop this nefarious scheme?

Run time - 2 hrs 31 min. Rated PG
The Mulberry Street branch is located at 10 Jersey Street at the site of a former chocolate factory in the SoHo neighborhood of Manhattan, historically known as the Cast Iron District. For more information on the "Superman: The Movie" screening, please visit NYPL.org.