March 9, 2016: "DC Super Heroes Little Library" Book Review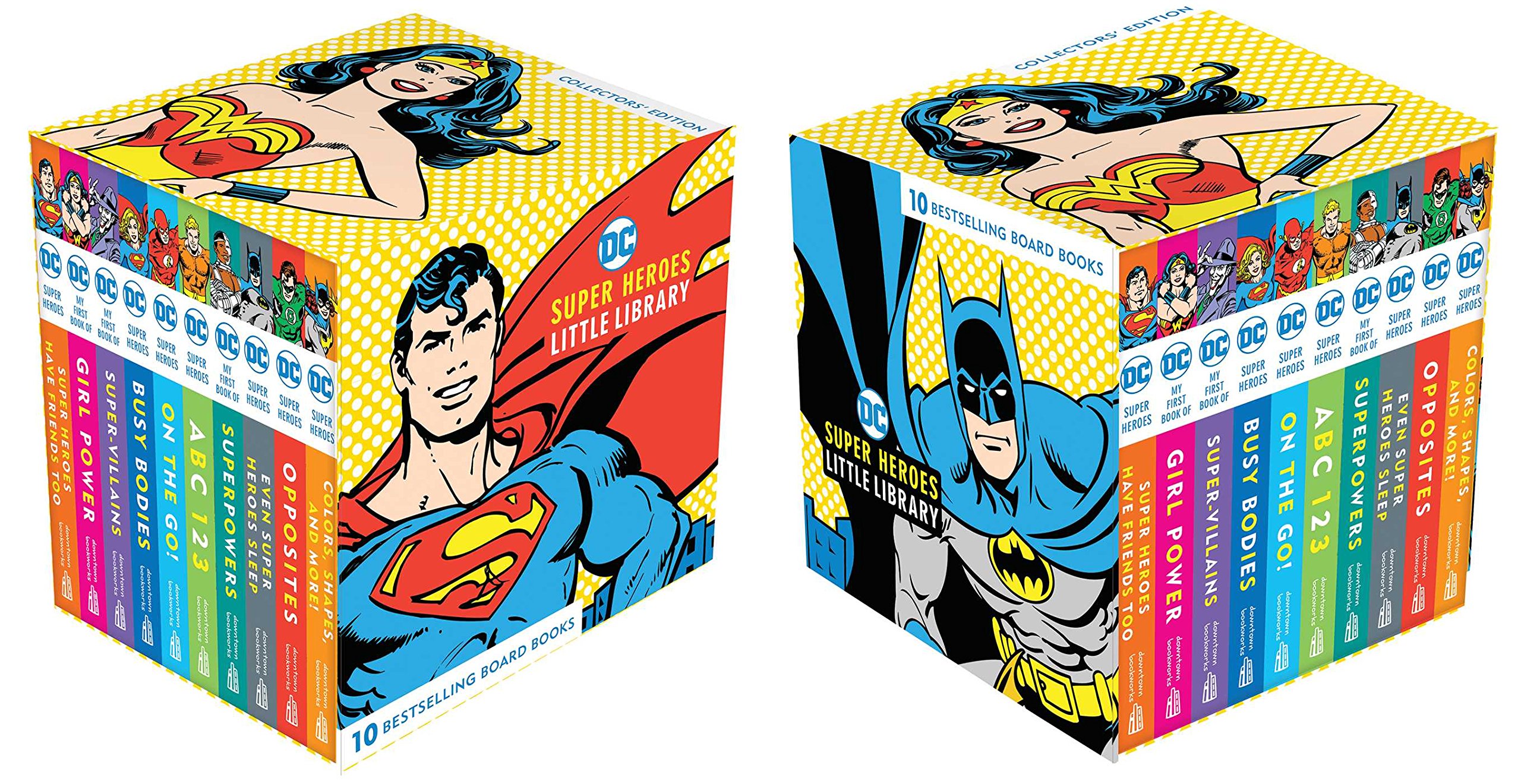 by Neil Cole

Downtown Bookworks recently provided the Superman Super Site with a review copy of their "DC Super Heroes Little Library" box set which features a keepsake collection of ten bestselling DC Super Hero concept board books for ages 3 & up.

Packaged in an artistically designed slipcase, the ten books are written by authors David Bar Katz, Morris Katz, and Julie Merberg and showcase such iconic DC Comics characters as Superman, Batman, Wonder Woman, Supergirl, Green Lantern, The Flash, plus many more. Titles featured in the collection include:
ABC 123
Busy Bodies
Colors and Shapes
My First Book of Girl Power
My First Book of Super-Villains
My First Book of Superpowers
On the Go!
Super Heroes Have Friends Too!
Even Super Heroes Sleep
Opposites
All the books in the collection are illustrated with classic art and make for a perfect introduction to the characters of the DC Universe for the extremely younger crowd. Each title focuses on teaching such important early developmental concepts as letters & numbers to colors & shapes as well as the alphabet & numbers to super powers & villains.
While the box set is recommended for readers ages 3 & younger children can also easily enjoy many of the titles which offer varying lengths of text that cater to one's particular reading level. For example, such titles as "ABC 123" & "Even Super Heroes Sleep" are shorter word books that are perfect for a two-year-old toddler while "Colors and Shapes" & "Super Heroes Have Friends Too!" are a bit longer and perfect for older todlers.
The overall quality of the "DC Super Heroes Little Library" box set is amazing and well constructed with all ten board books fitting neatly inside the awesomely detailed box. Each book is thick and sturdy and perfectly designed for the extreme daily wear & tear that little hands can inflict on items such as these. For the older crowd, the set looks great alongside any collection of DC Comics graphic novels & publications making it a true must-have for super hero fans of any age.
All-in-all, the "DC Super Heroes Little Library" box set makes both a perfect gift for toddlers and adults alike offerring an amazing keepsake collection of stories featuring a stellar line-up of classic & iconic DC Comics characters. Whether you're looking to introduce your youngster to the world of super heroes or are a super hero fan yourself, the "DC Super Heroes Little Library" is a perfect addition to any home library!