March 6, 2016: Funko "Legion of Collectors - Superman Box" Review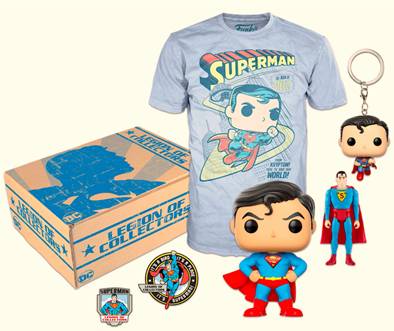 by Neil Cole

The Superman Super Site recently received a product review sample of Funko's latest "Legion of Collectors" box featuring exclusive merchandise and items pertaining to the Man of Steel.

Legion of Collectors, the third subscription service from Funko, borrows its name from DC's spacefaring superteam of the future. Like Funko's Marvel and Star Wars boxes, everything included in the new DC box is 100% exclusive (a collector's dream come true). Subscribers to all three boxes enjoy a new box of Funko exclusive every month of the year. Each box is $25 (plus shipping), delivered every other month.

The latest box in the series certainly did not disappoint and was filled with an array of collectibles that any comic book fan would absolutely love to add to their Superman collection.

The box itself features various pieces of artwork depicting the Man of Steel from over the course of the character's nearly 80-year history and is a very cool collectible in it's own right.

Affixed to the inner lid of the box was this month's exclusive patch featuring the Last Son of Krypton in flight embroidered with the famous quote, "It's a Bird, It's a Plane, It's Superman!" and the Legion of Collectors logo. Also attached to the lid was this month's exclusive Legion of Collectors pin which, not surprisingly, features an image of Superman done in the artistic style of legendary comic book artist Neal Adams.

The exclusive comic book for this month is a reprint of the classic Superman No. 1 comic book from 1939 and features a Superman Pop! vinyl figure inspired cover.

This month's exclusive t-shirt is powder blue in color and also features artwork depicting a Superman Pop! vinyl figure against a backdrop of Metropolis and the Superman logo along with the phrases "Man of Steel" and "From Krypton! Here to Save Our World!". It is certainly a design that would catch any fan's attention if it were available in stores.

Next up was one of the true highlights of "Legion of Collectors - Superman Box" in the form of an exclusive Superman Pop! vinyl figure designed in the classic style of how everyone remembers the Man of Steel complete with red trunks and his iconic spit curl. Along with this very awesome figure is a miniature Pop! vinyl figure which also features a classic depiction of the Man of Steel in flight.

Lastly, the box came packaged with what is easily one of the best collectibles ever released in the Legion of Collectors series in the form of a 3 3/4 inch First Appearance Superman figure. Based on his debut in Action Comics #1 from 1938, the jointed figure features Superman's very first costume against an unpunched, carded background of the classic comic book cover.

The back of the card also includes various panels from the comic as well. The overall presentation of this collectible would make removing the figure from it's packaging just crazy.

All-in-all, the "Legion of Collectors - Superman Box" was absolutely spectacular and far exceeded our expectations with all the wonderful collectibles contained within. The next box in the series is scheduled to be delivered in May and will feature exclusive items from the highly anticipated Warner Bros. feature film, "Wonder Woman".

If you have not yet signed up for this awesome subscription service, head over to LegionofCollectors.com/ and do so now!