Elementary School Unveils Justice League Mural in Honor of Cancer Victim
by Neil A. Cole

The Blue Point Elementary School community in Blue Point, NY recently completed a beautiful mural featuring the Justice League Superheroes and inspirational words in honor of former Blue Point Elementary School student William Schultz, who lost his brave fight with cancer last year.

William is remembered by the community as an amazing little boy who always displayed great character in the face of adversity, along with being a true superhero and role model for all.

The district would like to thank first-grade teacher Erica DePaoli for envisioning the mural, Blue Point parent Billy Tucci for drawing the outline, teacher Erica Mailand for adding color to the mural, along with various staff members for assisting with painting and the custodial staff who opened up the building for the volunteers.

In addition to the creation of William's mural, Blue Point Elementary will be adding a special award to their Character Education Program. At the end of each year, one student from every class will be presented with the "William Schultz SUPER Character Award," to be given to the student who displays exceptional character throughout the entire school year.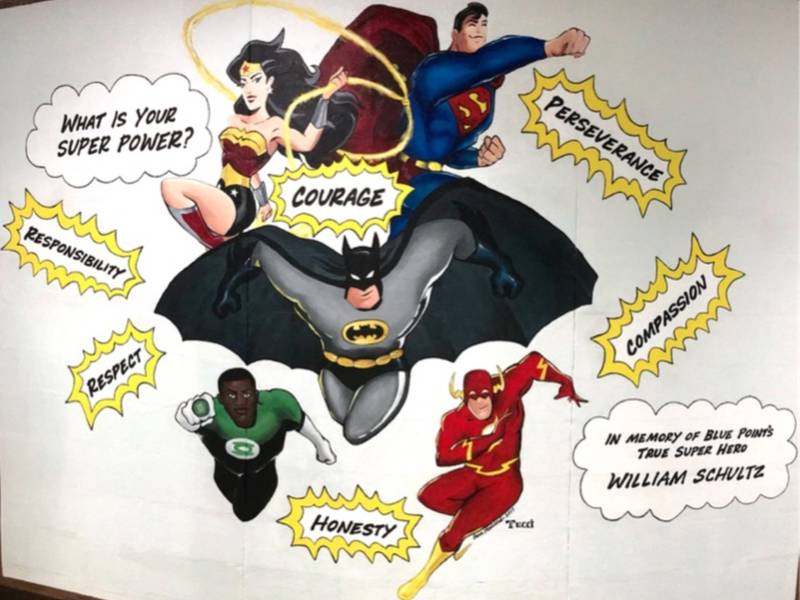 Photo courtesy of the Bayport-Blue Point School District