Samuel Witwer 1977 -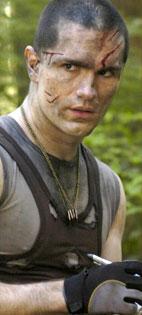 Samuel Stewart Witwer was born October 20, 1977 and grew up in Glenview, Illinois, outside of Chicago. He attended Glenbrook South High School, during which time he was involved in drama and theater classes, as well as being the lead singer of a high school band. He attended the Juilliard School of Drama.
Recently, Witwer has appeared as a soldier in The Mist, and as "Crashdown" on Battlestar Galactica, and released a CD titled "Colorful of the Stereo." In 2008 he appeared as Darth Vader's secret apprentice, Starkiller in the multimedia project Star Wars: The Force Unleashed providing both his voice and likeness to the character across all of the mediums.
It was announced in June 2008 that Witwer had been cast as Davis Bloome (Aka: Doomsday; the character from the Superman comics, best known for being the only villain to have killed Superman), a charming paramedic, on Smallville.