Justin Whalin 1974 -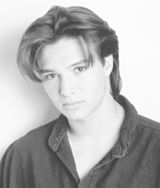 Justin Whalin was born September 6, 1974 in San Francisco, California.
Justin signed up for his first acting class to be with a girl that he had a crush on. The class led to Justin playing the lead role in "The Little Prince" at the Victoria Theatre in San Francisco at the age of 11.
His earliest television roles were as Anthony on "Charles in Charge" and A. J. Quartermaine on "General Hospital." Like Michael Landes, Justin's predecessor for the role of Jimmy Olsen, Justin also made an appearance on "The Wonder Years" early in his acting career. Some of his film roles include "Child's Play 3" and "Serial Mom." He won an Emmy for his role in the TV movie "Other Mothers."
With the start of the second season of "Lois & Clark" in the fall of 1994, Justin was brought on board to replace Michael Landes as cub reporter/photographer Jimmy Olsen. The image of the character was changed along with the actor; ABC was hoping to make Jimmy more of a "teen heart-throb" type, since the show's main competition, "SeaQuest," featured popular "Tiger Beat" cover boy Jonathan Brandis. Thus, Jimmy was often seen wearing flannel shirts and cowboy boots, and even riding a motorcycle in his early appearances on the show.
Justin's post-"L&C" credits include "White Wolves II," "For The Cause," and co-producing as well as starring in the sci-fi movie "Dungeons and Dragons."
Those who have seen the "Lois & Clark" Season 2 DVD's will notice Justin Whalin STILL looks young!