First Journey Metropolis, Illinois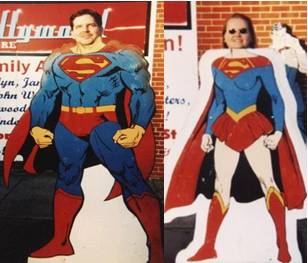 On November 1, 2005, my wife Jennifer and I (your Superman Super Site webmaster Neil) had the opportunity to travel up to Metropolis, Ill. from our vacation in Nashville, TN. and see all the sites. Our first stop was the Super Museum which Jim Hambrick (owner of the museum) was unfortunately absent from but we did meet him later, more on that a little later on... When we entered the museum, we found ourselves surrounded by collectibles in the gift shop. Resisting to buy everything in sight, we made it over to the museum entrance and paid the VERY reasonable $1.00 fee to enter.(make sure you get the $1.00 off coupon at the Massac County Welcome Center!) The museum is full of every type of Superman memorabilia from the 1930's through present day. It's hard to believe that what you see is only 20% of Jim's entire collection. We were later informed by Jim's brother Kevin & sister-in-law Connie (who both work in the museum and gift shop) that the collection is switched around before every Superman Festival each year so there is always something new to see. The coolest part of our visit was that with it being November, we seemed to be the only tourists in town and had the museum all to ourselves! Oh, how that changes around festival time with thousands of fans descend on this small Ohio River town.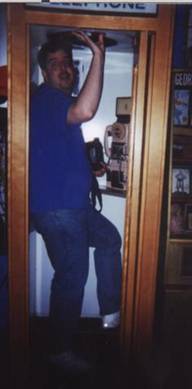 After drooling over all of Jim's priceless artifacts, we headed over to the Superman Statue for the ever famous photo opportunity which turned out pretty good as you can see from the picture to the top-right. Next, it was off to the Chamber of Commerce which I must say is very much like stepping into another Superman gift shop. The staff was very friendly and answered all the questions we had about other attractions in town and places to eat. Unfortunately, the only place downtown to eat is Hardees so be prepared to head back toward the I-24 if you aren't into "Thick Burgers" and fries. Needless to say, we had "Thick Burgers" and fries...
With a "nutricious" meal behind us, we headed back to the Super Museum to track down Jim, but alas, no such luck. Kevin told us he should be back shortly and suggested to pass the time by going across town to Jim's new "Americana Hollywood" museum. We took the offer and found that this wonderful museum was already closed for the day, awesome huh? We made our way back to the museum and to our relief, Jim had arrived back from his errands. It was very cool to finally meet the one and only Jim Hambrick. We talked about the new movie, some things that he was involved with in the Superman universe, and his collection of course. After chatting for a little while, the new "Americana" museum was brought up again and this time we were guarenteed to get inside after Jim asked Kevin to let us in at no charge! Yipee!
For those who have seen the Super Museum, all I can tell you is that you ain't seen nothing until you visit Jim's new museum. Located near Harrah's Casino and the huge "Kryptonite" rock, the "Americana Hollywood" museum features collectibles from movies, tv shows, and actors past and present. Jim has amassed a collection that rivals his Superman one. Everything from Pamela Anderson's outfits from "V.I.P." to the original written lyrics to Jimmy Hendrick's "Purple Haze" are in this huge museum. There's even two Mccalls that can speak very fluently... and take your finger off if you get too close. Just like with the Super Museum, we had the place all to ourselves... no free souveniers even though it was funny to see Kevin's face when I told him we had taken a few. Make sure you visit both museums when you visit, you won't be disappointed!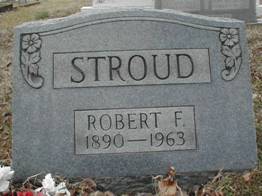 With the day winding down and most of our sightseeing behind us, we decided to check out one last tourist "attraction"... the gravesite of Robert Stroud, aka the "Birdman of Alcatraz". After getting directions from Kevin and Connie, we headed out of town to the very old & LARGE cemetary. Upon arrival, we realized that finding this gravesite wasn't going to be easy. With no caretaker around, we had to use a photo in the tourism guide to seek out the famous "Birdman's" resting spot. After circling the grounds, we finally came across the small, nondescript headstone. Thankfully, someone had placed some fake florist birds next to it or we may never have suceeded in our quest. To all those who want to visit for yourselves, enter the first driveway you come to at the cemetary and go in about 50 yards and keep looking to your left until you see the tombstone about 20 yards off the driveway.
Our day was finally over and we drove through Fort Massac and down by the Ohio River before departing town on our way back to Nashville. We returned for the 30th Annual Superman Celebration in 2008 (which you read about here) but I highly recommend to visit during the rest of the year too. Metropolis may not be anything like the fictional comic book city, but it's character and small town charm will stay with you always just like it will for us.