Superman: V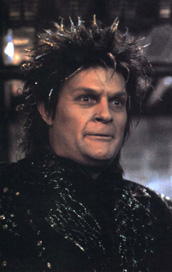 'SUPERMAN V' was being planned as early as 1988, and Cannon Films once again would have been responsible for the story, production values, and a possible release date for the summer of 1989. A screenplay was never written for this film, but 'Superman V' would have taken advantage of much of the 45 minutes stripped from 'Superman IV: The Quest for Peace'. The original cut of 'Superman IV' was well over 2 hours, so there was never-before-seen footage that could be recycled and placed into a new cut of a 'Superman V'. This would have been no surprise for those who are familiar with Cannon's reputation, of cutting corners and cheapening production value in any way possible. One scene in particular would definitely have been used, a battle scene between Superman and Nuclear Man 1 - a Frankenstein-like monster created by Lex Luthor which. This battle scene reportedly cost Cannon $6 million dollars to shoot! Judging by the production stills and the storyboards of this sequence, this battle was nothing to laugh at. In fact, if it had been kept in the final cut of 'Superman IV', it could well have been the most stunning battle of Superman movie series.
'Superman IV's' test screening was conducted in Orange County, California, completely uncut. Reviews from that audience caused major editing changes. Many believe those changes left important sequences on the cutting room floor, like what happened to Jeremy after he met Superman at the World Leader's Summit? Editor John Shirley was told to destroy the master print of the 134 minute complete cut of 'Superman IV' (with all that extra footage). It is believed that the 45 minutes stripped from the picture was indeed destroyed. Until the footage does surface, it is commonly refered to as the lost footage. There are a few fans today who believe the lost footage, if used in a 'Superman IV' cut could have made the film better (even into an epic piece!!!), one that would have matched Donner's 'Superman: The Movie'. 'Superman IV' has grown a small fan-base of followers over the years, because of it's alternate filmmaking style and edgy story/characters, despite the controversy over the film's problems.
Nevertheless, 'Superman IV' was a failure at the box-office. Many blame the editing for it's box-office failure, many blame the strikingly different FX. Cannon certainly didn't have the budget to market this film properly, in my opinion. Christopher Reeve eventually chose not to do a 'Superman V'. He felt it would not capture the spirit of the original as a blockbuster epic. A replacement was necessary for the reluctant and increasingly expensive Christopher Reeve. Cannon Films thought of using a different actor to continue the series, but eventually the idea was ditched all together and Cannon moved on from the project. That left the Superman franchise once again into the hands of some old friends...Alexander and Ilya Salkind. The Salkinds re-aquired the rights to the man of steel, as Cannon had an option for a limited time only. In their wisdom, the Salkinds wanted to bring Superman back with their new and ever increasingly successful series 'Superboy' (which premiered in Northern America on October of 1988). Their film was called SUPERMAN: THE NEW MOVIE, and would star Gerard Christopher, the star of 'Superboy', as the new Superman. The development of this picture appeared to drag more feet than Luthor had kryptonite. But one thing was intriguing - it would have finally married two popular, traditional Superman mythos and characters. Superboy and Superman.