Frank Langella 1938 -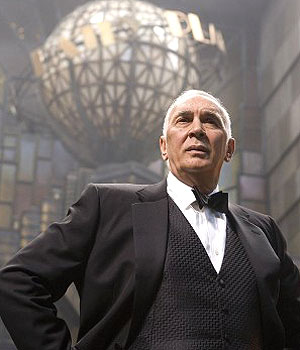 Langella, an Italian American, was born January 1, 1938 in Bayonne, New Jersey, the son of Frank A. Langella, Sr., a business executive, and graduated from Syracuse University in 1959 with a Bachelor of Arts degree in drama. He remains a brother of the Alpha Chi Rho fraternity. Prior to graduating Syracuse University, Frank Langella attended Washington Elementary School and Bayonne High School in Bayonne.
Langella was best known early in his career for his success in the title role of the Broadway production of Dracula. In a recent interview, Langella commented that people (in fact, mostly men) always complimented him on the sexual energy of his stage performance as the Count, telling him, "Boy, did my wife make love to me that night!" after seeing him onstage. Despite his initial misgivings about continuing to play the role, he was persuaded to star opposite Sir Laurence Olivier in the subsequent film version directed by John Badham. Langella reports that on his last day of shooting he hung the cloak on a costume rack firmly knowing he could never pick it up again for fear of being typecast. Langella reminisced on filming with Olivier. In the The Complete Films of Laurence Olivier (Jerry Vermilye, Citadel Press), Langella says.....
"The thing about him that's pretty wonderful is that when we were on the set together there was no such thing as the legend, the reputation, the past. There was only the moment, how we work this moment and 'Oh, dear boy, what do you think we should do about this?' and 'Oh, my God, will you help me out?' - all those wonderful things he does to make you feel relaxed."
He went on to play Sherlock Holmes in an HBO adaptation (1981) of William Gillette's famous stage play. He repeated the role on Broadway in 1987 in Charles Marowitz's play Sherlock's Last Case. That same year (1987), Langella would also portray the villain Skeletor in Masters of the Universe.
For years afterward, Langella largely avoided acting on film in order to seriously pursue theatre. He has done more film and television work in recent years after finding a niche; in 1993 he made a memorable three-episode appearance on Star Trek: Deep Space Nine as the devious Jaro Essa. He also appeared in a 2003 episode of Law & Order: Special Victims Unit and as a villainous pirate in the summer 1995 release Cutthroat Island. He also had a recurring role as 'Pino' in the 2005 short-lived sitcom 'Kitchen Confidential'. He picked up the Peter Sellers role in Adrian Lyne's remake of Lolita. More recently, he appeared in George Clooney's Good Night, and Good Luck (2005) as former CBS chief executive William S. Paley and in Bryan Singer's Superman Returns (2006) as Daily Planet editor Perry White. He received the Boston Society of Film Critics Award in 2007 for his sensitive performance as an elderly novelist in Starting Out in the Evening.
Langella is still best known as an accomplished stage actor, most recently appearing in Peter Morgan's Frost/Nixon which received enthusiastic reviews during a run at the Donmar Warehouse and Gielgud Theatre in London before moving to New York's Bernard B. Jacobs Theater in April 2007. Langella has reprised his Tony Award winning role as Richard Nixon in the upcoming film adaptation directed by Ron Howard, to be released later this year. He has also appeared in notable off-Broadway productions, including in the title role of Robert Kalfin's Chelsea Theater Center production of The Prince of Homburg, which was filmed by PBS for the Theatre in America series.