Jackie Kelk 1921 - 2002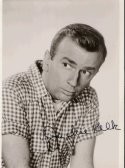 Jackie Kelk was born in Brooklyn, New York in 1921 and got his Broadway break as a child before moving into radio and eventually film with roles on Wrongorilla (1933) and Born to be Bad (1934).
His acting career would later bestow on him the recognition of being the first actor to bring the character of Jimmy Olsen to life on "The Adventures of Superman" radio show. Kelk would continue to portray Olsen for seven years until the role was taken over by Jack Grimes.
Also well known for his role as Homer Brown in the popular television series The Aldrich Family, Jackie Kelk also appeared in features through the 1950s. Parlaying his role as Brown from the radio series to the television series, Kelk became synonymous with his most popular character during the 1949 television series. Later appearing on The Donna Reed Show and Leave It to Beaver, Kelk's other feature credits include Somebody Up There Likes Me (1956) and The Pajama Game (1957).
Sadly in early September 2002, Kelk died of a lung infection in Rancho Mirage, CA. He was 81.