Sam Huntington 1982 -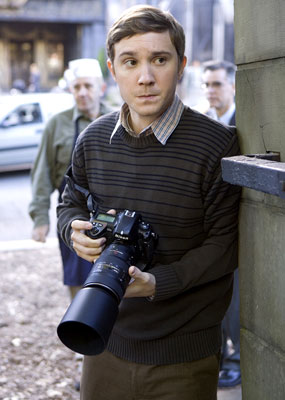 With an impressive volume of work already behind him by the tender age of 23, boyish Sam Huntington was poised to enter the public zeitgeist with his casting as Jimmy Olsen, famous pal of the Man of Steel in "Superman Returns" (lensed 2005). He was cast with newcomer Brandon Routh, just three years older, who won the role of the Man of Steel in director Bryan Singer's highly anticipated superhero opus after several failed attempts at getting the franchise off the ground again by such interested helmers as Tim Burton, Wolfgang Peterson, McG, and Brett Ratner.
Born in Peterborough, New Hampshire in 1982, Huntington starting performing at an early age, being introduced to the world of performing by his mother, herself an actress on such shows as "Knots Landing" on CBS. Huntington made his "stage debut" at the age of nine in his mother's theater for children, The Black Box. He acted in several youth productions in Peterborough, including "To Kill A Mockingbird." He also performed at Franklin Pierce College.
At the age of 13, upon moving to New York City for a while with his mother, Huntington landed an agent, several television commercials, and a friend in Macaulay Culkin. In no time, he appeared in his first TV movie, "Harvest of Fire," (1996) and shortly after that, won a role in "Jungle to Jungle," (1997) opposite Tim Allen, as the first in a three-picture deal with Walt Disney Studios. A guest spot on NBC's "Law & Order" followed. Huntington moved on to teen roles, sharing the screen with Edward Furlong in "Detroit Rock City," the story of a group of teenagers on their way to a KISS concert in the 1970s.
He next appeared in the parody, "Not Another Teen Movie" in 2001. After a small part in "Rolling Kansas" (2003), he played the lead in "Home of Phobia," (2004) about freshman in college who pretends to be gay in order to get close to a girl he's smitten with. His charade starts off innocently enough at first, but soon delves into a whirlwind of hazing, identity questioning and activism. That same year, Huntington was an objection of affection in "Sleepover," starring Alexa Vega of "Spy Kids" fame. He also played small roles in such films as "Raising Genius" and "In Enemy Hands" that year, and followed them with "Molding Clay" in 2005. His television guest appearances included "CSI: NY," and "CSI: Miami" (CBS), and "Veronica Mars" (UPN).
He then landed a big role in Bryan Singer's long-awaited take on the Man of Steel, "Superman Returns" (2006), playing the eager-to-please and happily naïve Daily Planet photographer and Clark Kent's best friend, Jimmy Olsen. As the world awaited the release of "Superman Returns," Huntington filmed "Fanboys" (lensed 2006), a road trip comedy about four "Star Wars" geeks who drive across country to Skywalker Ranch in order to sneak a peak at George Lucas' then-unreleased "Episode I" as a last hoorah for their dying friend.