Adam Baldwin 1962 -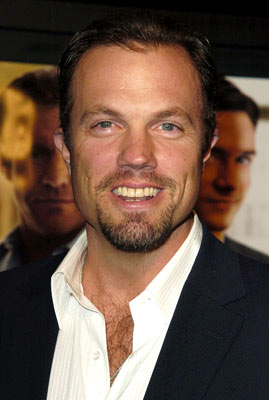 Adam Baldwin was born on 02/27/1962 in Winnetka, Illinois. He was discovered by director Tony Bill while attending high school in Illinois, and was promptly cast as the title character in "My Bodyguard" (1980). That year he was also cast as one of Timothy Hutton's swim teammates in Robert Redford's "Ordinary People". After starring in "D.C. Cab" (1983), a low-rent comedy, Baldwin went on to supporting roles in more ambitious fare: Stanley Kubrick's "Full Metal Jacket" (1987) as a soldier who truly loves war; "Radio Flyer" (1992), as an abusive stepfather; and "Guilty by Suspicion" (1991), as a goon purporting to be an FBI agent. He also appeared in Lawrence Kasdan's "Wyatt Earp" (1994) and the blockbuster hit "Independence Day" (1996).
Baldwin next landed the role of Col. Jack Riles on the series "The Cape" (1996-1997) The syndicated show featured a group of NASA astronauts on location in Cape Canaveral in Florida. Although it developed a rabid fan base, the show only aired for a season and remained unknown to larger audiences. Baldwin continued to work steadily in both film and television, his noticable 6'4 frame fitting nicely into a variety of imposing roles, particularly the recurring role of Knowle Rohrer on "The X-Files" beginning in 2001. In 2002, with several dozen films under his belt, Baldwin landed another role in a television ensemble drama. This time he was cast in the highly awaited new show from "Buffy the Vampire Slayer" creator Joss Whedon. "Firefly" featured a group of space travelers on a ship in the future, struggling to get along with one another and to survive. As the intelluctually limited but plain-spoken Jayne Cobb, Baldwin became a favorite of the show's rabidly loyal cadre of viewers, but, mishandled by Fox, the series was yanked from the air after only a few episodes. The actor had no shortage of work: along with a recurring role as Marcus Hamilton in the 2003-2004 season of Whedon's "Buffy" spin-off "Angel" as well as a two-part appearance on another TV sci-fi favorite, SciFi's "Stargate SG-1," Baldwin also appeared in several action and genre-themed B-films before being cast in the FBI-themed summer series "The Inside" (Fox, 2005) as the imposing, hotheaded ex-Marine and tactical team leader Danny Love. Though that series was not picked up, the brisk DVD sales of "Firefly" allowed Baldwin to reprise his role as Jayne Cobb for Whedon's feature film extension of the once-seemingly dead franchise "Serenity" (2005).
Most recently, Baldwin has been cast as the voice of Superman/Clark Kent in the first animated Superman movie, Superman: Doomsday, based on DC Comics' The Death of Superman, to be released September 18, 2007. He will portray Major John Casey on the new NBC series Chuck. The show premieres September 24, 2007.