Aaron Ashmore 1979 -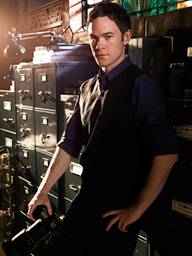 Aaron Robert Ashmore (born October 7, 1979) was born in Richmond, British Columbia, to Linda, a homemaker, and Rick Ashmore, a manufacturing manager. His identical twin brother, Shawn Ashmore, is also an actor. Aaron and Shawn have played twins in several movies, but have also pursued roles independently. Aaron is slightly taller than Shawn in addition to being more muscular and, according to Aaron, Shawn often gets cast as the nice guy while Aaron himself is cast as the bully.
Ashmore was best known for playing Marc Hall in the 2004 Canadian TV movie Prom Queen: The Marc Hall Story. Since then, he has appeared in the films Safe, A Separate Peace, and A Bear Named Winnie. He has also had guest roles on the television shows The Eleventh Hour, The West Wing, and 1-800-Missing. Ashmore has more recently played the recurring role of Troy Vandegraff on the The CW Television Network television series Veronica Mars.
He has been cast as Jimmy Olsen for the sixth season of Smallville on the CW. Coincidentally, his friend Sam Huntington played Olsen in Superman Returns and the two have both appeared in Veronica Mars. Ashmore's twin brother played a villain on Smallville in earlier seasons. Besides his recurring role on Smallville, Ashmore has roles in the upcoming 2007 films Palo Alto, Privileged, The Stone Angel and The Christmas Cottage. Aaron has joined the cast of Smallville as regular in season 7.
Both he and his brother have a "GMA" tattoo on their wrists that stands for 'Good Man Ashmore'. Their grandfather had a similar tattoo. He is 6 feet tall.