Original "Action Comics No. 1" Silver-Print Proof Heads to Auction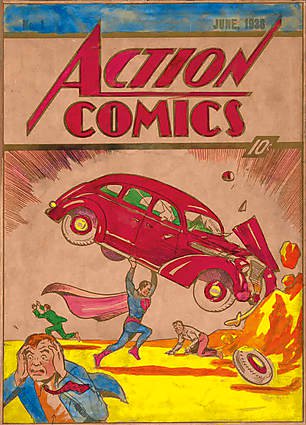 by Neil A. Cole

An original "Action Comics No. 1" hand-colored silver-print proof from 1938 is currently being auctioned off by online comic marketplace & auctioneer Comic Connect.

At one time, comics were considered disposable, a temporary distraction, which is why so few copies of Golden Age books survive today, despite print runs in the hundreds of thousands. The same thought applied to the art used in the production process, tossed aside as an afterthought, or disposed of by publishers. As a result, the original art for nearly all the classic early works in comic books is lost forever, shredded and tattered, buried in landfills or incinerated and gone to ash.

Except for one truly remarkable piece, the first highlight of the collection, the original hand-colored art on the silver-print for Action #1!

Ed Eisenberg got his start as a young man doing color proofs for National Periodicals (now DC comics). To save money and time, publishers would print "silver proofs," cheap and slightly faded knockoff prints of finalized black-and-white line art printed on paper that would easily absorb watercolors, allowing color artists to mock up basic looks for the covers and interiors of comics to see what palette would work best. It was Ed who devised the color scheme for what became the single most-important comic cover ever published, Action Comics #1, the first appearance of the first superhero, Superman. As always, several proofs were made, allowing editors to choose which look had maximum impact, while the discarded ideas were tossed and gone forever.

Eisenberg, returning to the job after WWII, discovered this one surviving copy, showcasing his original color art, which had been hanging on Harry Donenfeld's office wall behind his desk, for years, and was about to be disposed of while workers cleared out the desk of the ailing publisher. Ed saved it from the scrap heap and took it home, where it remained in his possession until its appearance in auction some 60 years later. As the original art from this issue is long lost, this is likely the only remaining piece left of the construction of an American pop-culture monument, making it among the most historically significant items we've had the privilege of offering.

Observe the major variation in coloring: Eisenberg notes that the red car, while attractive and eye-catching, fought for attention with the red of Superman's cape, and, as editors felt that Superman must be the central figure on the cover, so the car's color was changed, bringing the final imagery in line with what we all know and love. The value and importance of this piece, both to comics and to Americana, cannot possibly be overstated. There are less than 100 copies of Action #1 out there, and look what's happened to the prices on those. Imagine if there was only one, like this hand-colored silver print!

For more information about this truly remarkable one-of-a-kind comic collectible or to place a bid, please visit Comic Connect.