September 28, 2010: Noel Neill Statue Boosting Tourism in Metropolis, IL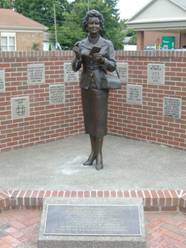 METROPOLIS, Ill. — The sculpted image of actress Noel Neill in her fictional role of Superman romantic interest Lois Lane is having a very real effect on tourism.
"During the height of the summer tourism season, before kids were back in school, we were getting anywhere from 25 to 40 people a day in here asking where the Lois Lane statue is," said merchant Jim Hambrick.
Hambrick, who owns the Super Museum just across the street from Superman Square and the city's 15-foot-tall Superman statue, said publicity over the dedication of the Lois Lane statue in June generated a new flow of visitation. Some people were enticed to visit Metropolis for the first time, while others were repeat visitors who made new pilgrimages to add the bronze Lois Lane/Noel Neill likeness at Eighth and Market streets to their been there/seen that list.
Hambrick noted CNN coverage of the statue dedication, attended by Neil, 89, during the city's Superman Celebration.
Angie Shelton, Metropolis Tourism director, said the newer statue is boosting foot traffic as intended.
"We're seeing the results we thought we were going to see — more people are walking around in town, making the two-block walk from the Superman statue to the Noel Neill statue.
"We're seeing more people at the Superman statue, too," Shelton said. "The new statue gives them more to see, and people are spending more time in town."
Clyde Wills, Metropolis Chamber of Commerce president, said the chamber still is selling personalized bricks that go into the new statue's base. A new batch of inscribed bricks will be installed soon after Thursday's deadline, but sales of the bricks — $75 each — will continue, yet another batch to be installed later.
The total cost of the Lane/Neill statue is about $70,000, Wills said. Metropolis initially paid $29,500 from a hotel-motel room tax tourism fund as a local share of the statue costs. The city paid $24,711 more as a loan later when an Illinois tourism grant in that amount was caught in the state's budget crisis.
Alderman Charles Barfield, the city's representative on the Metropolis Area Tourism Commission board, said the state grant payment is authorized and may come to the chamber as soon as January. Meanwhile, the city is comfortable enough with the tourism fund loan for a tourism project — repayable as soon as the tourism grant is freed.
"No pressure (on the chamber or state tourism department) is being applied," Barfield said. "We understand how it is."
Orders for the commemorative bricks can be placed with forms on the website www.noelneillstatue.com or through the chamber of commerce, 618-524-2714.
This article is original to The Paducah Sun and has been republished here through strict permission from Steve Vantreese.