July 31, 2017: NYC Tour Takes Fans to Super Hero Movie Filming Locations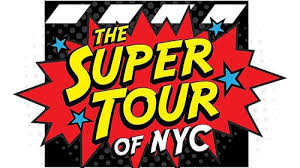 by Neil Cole

On Location Tours have launched their all-new Super Tour of NYC which takes fans to the best filming locations where such comic book heroes as Superman, Batman, The Avengers, Spider-Man, and more saved the day!

This one-of-a-kind experience for comic book lovers of all ages features a guided sightseeing bus tour where you will see over 40 NYC locations featured in your favorite super-powered TV shows and movies.

Tour highlights include:
FLY to the NY Daily News Building used in Superman
SWING into the Flatiron Building from the Spider-Man movies
SEE where the Battle of New York took place in The Avengers
SPOT the New York Stock Exchange where Batman fights Bane in The Dark Knight Rises
ZOOM past locations featured in Jessica Jones, Daredevil, and Iron Fist
CATCH a glimpse of where Uncle Ben gives his famous catchphrase to Peter Parker in Spider-Man
SAVE New York City at the Statue of Liberty and Staten Island Ferry seen in X-Men and Spider-Man: Homecoming (Tickets to the Statue or Ferry not included)
The Super Tour departs from Times Square every Saturday & Sunday at Noon and takes approximately 3.5 hours.
Tickets are $49 for adults and $29 for children 6-9 and can be purchased here. Online discounts are available and advance reservations are strongly encouraged as tours do tend to sell out.