July 30, 2015: Christopher Reeve Superman Costume Heads to Auction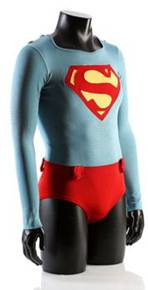 by Neil A. Cole
An original Superman costume worn by Christopher Reeve in the 1978 blockbuster film will be featured in the Entertainment Memorabilia Live Auction at the ODEON BFI IMAX in Waterloo, London on Wednesday, September 23rd.
The costume features only the blue tunic, "S" shield, and red trunks and was used in the sequence from the first film where Superman struggles under water in Lex Luthor's lair after having a piece of Kryptonite placed around his neck by the iconic villain.
Over 450 lots of original props, costumes and rare production material from more than 150 films and television shows will be featured in the auction. The spectacular live event will feature an interactive webcast with bidding available online, by phone or in person.
Prop Store and ODEON will also present a 2 week, museum-grade, free-to-enter exhibition showcasing over 250 of the auction lots. This display will allow visitors the opportunity to get up close with these incredible pieces of entertainment history.
For more information, please visit PropStore.com.