July 3, 2017: Jada Toys Reveals DC Comics Themed Nano Metalfigs Line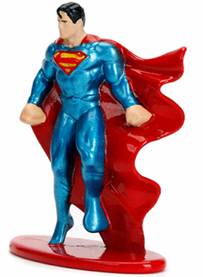 by Neil Cole

Jada Toys, a leading manufacturer of high quality die-cast collectibles and toys, has revealed their new "Nano Metalfigs" line featuring 1.65" scale versions of various superheroes and villains from the DC Comics Universe.

The 100% die-cast figures will be sold in single and five-packs beginning this month followed shortly thereafter with the release of 10 and 20 packs. Single packs will retail for $0.99 while the five-packs will cost $4.99 each.

The first wave of Nano Matalfigs will feature over 20 DC themed figures to collect. Additional waves are planned for release over the course of the year including Nano Scenes which are diorama sets created to imaginatively display figure collections in authentic ways. These will retail for around $29.99 and will come with two exclusive figures and features.