May 19, 2010: Brandon Routh Talks Superman Reboot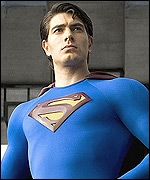 by Neil Cole
iF Magazine recently interviewed 'Superman Returns' star Brandon Routh about his role on Chuck playing the character Daniel Shaw. Routh also spoke about the new Superman movie and his thoughts on his own version of the Man of Steel.
"There's talk about doing another Superman movie, as of yet, but there's nothing done. I love the character and I feel I still have a lot more I could do with the character. I trust the [role] will always stay with me. It was a proud moment for me. I wouldn't be here without it and wouldn't have been in this position I'm in as quickly as I did."
While Routh would love to don the cape and tights for another Superman movie, things are still up in the air - especially now that The Dark Knight helmer Christopher Nolan is on board to produce and shepherd another reboot, which would likely mean Routh would be out.
Check out the complete interview at iFMagazine.com.