February 14, 2011: Joanne Siegel Dies at Age 93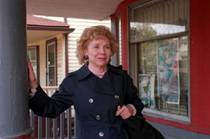 Joanne Siegel, widow of Superman co-creator Jerry Siegel and the original model for Lois Lane, has passed away at the age of 93 in California.
Mike Olszewski, president of the Cleveland-based Siegel and Shuster Society, spoke to Cleveland.com upon learning of Siegel's passing:
"Joanne Siegel stands as a shining example for us all of a person who fought for justice for herself, her family and her husband's memory and did so with great dignity and resolve," he said. "She was the true model for Jerry Siegel and Joe Shuster's Lois Lane and lived up to the high standards they gave that character in real life."
Joanne was just a teenager in Depression-era Cleveland when she placed an advertisement in the classified section of the Plain Dealer offering to model. After seeing the ad, Joe Shuster contacted her to model for him, never realizing that she would become the basis for Lois Lane.
Joanne went on to meet Superman co-creator Jerry Siegel in the 1930s whom she would later marry in 1948 after his divorce from Bella Siegel.
Joanne continued to stay by Jerry's side through the hardships of the late 1950s and the 1960s when Siegel found it hard to find work as a writer in the comic book field that he created.
In 1978, with the pending release of Warner Brothers Superman movie, Joanne and Jerry along with the backing by the biggest names in the comic book industry at the time convinced DC Comics to give the Superman creators a lifelong stipend.
Jerry passed away in 1996 and, upon his wishes, Joanne returned to Cleveland and tried to find a place to lay half of her husband's ashes. She also wanted to create a permanent memorial to her husband featuring his typewriter, scripts, and his glasses which could be viewed by the public.
However, after no one in Cleveland seemed interested, some of the items eventually found a permanent home at the Super Museum in Metropolis, Illinois and the Maltz Museum of Jewish Heritage in Beachwood, Ohio.
Joanne's last visit to Cleveland would be in 2009 to attend a ceremony celebrating the completion of the restoration to her husband's former childhood home on Kimberley Avenue in the Glenville neighborhood.
Siegel's funeral arrangements are currently being arranged by her daughter, Laura Siegel Larson.
The Superman Super Site would like to extend it's condolences and sympathy to the Siegel family during this time of loss.