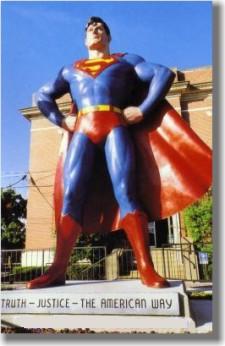 Visitor Information
The annual Superman Celebration takes place in Metropolis, Illinois which has welcomed tourists and curiosity seekers to the one-and-only official "Home of Superman" for over three decades. A billboard with the image of Superman points the way to downtown Metropolis for motorists entering the city from the east side. Other images of the super hero can be found all around this town of less than seven thousand inhabitants.
Superman souvenirs are available everywhere as well. At one time, the Chamber gave away free packets of Kryptonite to children but were forced to cease this tradition when "DC Comics" claimed the practice was a copyright violation.
Things haven't always been so rosy in Metropolis though.
In 1972, the town had plans to build a thousand-acre "Amazing World of Superman", a $50 million theme park, with a 200-foot-tall statue. Cars would drive between Superman's legs to enter the park. Then the Arabs shut off the oil and the bankers shut down Metropolis's dream.
The town took over a decade to recover. Then, very cautiously, Metropolis scraped together a thousand bucks in 1986 and put up a seven-foot fiberglass Superman in the town square. It quickly became a target for literal-minded vandals who wanted to see if the Man of Steel was stronger than a speeding bullet. He wasn't, and once again Metropolis's efforts to celebrate their hero were thwarted. What could a small town like Metropolis do?
In 1993, they did a lot. On June 5th, citizens of Metropolis unveiled a new fifteen-foot bronze statue of Superman preceding the town's fifteenth annual Superman Celebration. Built by the same company that created the Emmy statue outside the Academy of Television Arts in Hollywood, the monument to the most famous flying hero ever stands proudly in full color in front of the courthouse on Superman Square. Tens of thousands have since visited the statue, and it has become a focal point of the small town's revival in both an economic and cultural sense. (Several community service groups raised over $100,000 for the project by selling personalized bricks that beautify the base and walkway around the statue.)
Metropolis, Illinois, is located just across the Ohio River from Padukah, Kentucky. From Interstate 24, follow Route 45 West for about five miles. Once you cross Massac Creek, the highway twists left then right before turning into Fifth Street. The Superman statue, located at the center of town, is at the intersection of Fifth and Market Streets. You can leave your car in any of the designated parking spots, and easily walk to all of the sites.
Hotels & Lodging
Baymont Inn & Suites
Located across the street from Harrah's Casino the Baymont Inn offers 120 rooms ready to make your stay in Metropolis the best. Amenities include free high-speed internet, free continental breakfast and 24 hour indoor pool access. The Baymont Inn also has a 7,000 square foot theatre on property that is excellent for special events, reunions and meetings.
618-524-5678
203 E. Front St., Metropolis, IL 62960
Baymont Inn.com
Comfort Inn
The Comfort Inn offers 52 rooms with King & Queen bed options. Amenities include heated indoor swimming pool, free continental breakfast, and high-speed internet. Located just off I-24 at Exit 37.
618-524-7227
2118 E. Fifth St., Metropolis, IL 62960
Choice Hotels.com
Harrah's Hotel
With 252 spacious hotel rooms and 6 luxury suites, Harrah's Metropolis offers the perfect retreat for a break from the action and a pleasant overnight stay. Amenities include in-room coffee maker, refrigerator, safe, iron & ironing board, hair dryer, pay-per-view movies and free high-speed wireless internet.
618-524-2628
1-800-HARRAHS
100 E. Front St., Metropolis, IL 62960
Harrahs.com
Holiday Inn Express
The Holiday Inn Express hotel in Metropolis is conveniently located at the intersection of Interstate 24 and US 45 at Exit 37, across the Ohio River from Paducah, KY. The hotel offers complementary Express Start Breakfast, as well as high speed wireless internet in all rooms. The property also has an indoor pool and spa/fitness center and new bedding in all rooms.
618-524-8899
888-419-2463
2179 E. Fifth St., Metropolis, IL 62960
HIExpress.com
Metropolis Inn
Metropolis Inn offers double or single occupancy. Amenities include in room coffee makers, indoor pool, high-speed internet, cable TV, and hot continental breakfast. The Metropolis Inn offers, nightly, weekly and monthly rates. Truck and RV parking is available. Located just off I-24 at Exit 37.
618-524-3723
2119 E. Fifth St., Metroplis, IL 62960
Summers Riverview Mansion Bed & Breakfast
Five master suites available in a Victoian home overlooking the Ohio River. Private bath with claw-foot tub and shower, telephone, cable TV, internet, whirlpool tub, fireplace and swimming pool.
618-524-5328
877-524-5328
205 Metropolis St., Metropolis
Summers Bed and Breakfast.com
Super 8 Metropolis
This 63 room lodging facility provides clean comfortable rooms at affordable prices. Amenities include free continental breakfast, indoor pool and hot tub, wireless internet, cable TV, in room coffee makers, hair dryers & more. Located at Exit 37 on I-24.
618-524-8200
1-24 & U.S. 45, Metropolis, IL 62960
Super 8 Metropolis.com
Location & Directions
Located in scenic southern Illinois, Metropolis is nestled on the shore of the great Ohio river. Metropolis is situated on Interstate 24 halfway between Nashville, Tennessee and St. Louis, Missouri, while Paducah, Kentucky is only 13 miles away.
Driving Distances

Atlanta, GA

395 miles

Cincinnati, OH

332 miles

Chicago, IL

365 miles

Indianapolis, IN

299 miles

Little Rock, AR

327 miles

Memphis, TN

207 miles

Nashville, TN

149 miles

Paducah, KY

13 miles

St. Louis, MO

167 miles
Click here for directions to Metropolis from anywhere in the country.