Laura Vandervoort 1984 -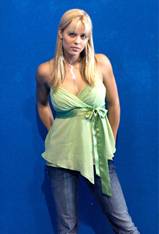 Laura Dianne Vandervoort was born September 22 1984 in Toronto, Canada.
A tomboy for years to come she was involved in several sports (Soccer, Karate, Basketball, Tennis, Gymnastics, Baseball…etc.) Entering karate at age 7 she found herself with a second degree Black Belt at age 16.
Laura began acting at the age of 13. She had always been an entertainer, putting on shows for family and friends, however what triggered her interest in the arts was a film called "My Girl." She received the movie from her aunt at a very young age and after watching realized that acting was what was inside her.
After taking several classes and doing background work on Canadian shows such as "Road to Avonlea" and "Harriet the Spy" she got her first speaking role in Canadian children's series "Goosebumps" (3 Episodes) and "Are You Afraid of the Dark?"
After commercials and guest stars (Mutant-X, Prom Queen, Twice in a Lifetime, Doc, Sue Thomas FBI, Troubled Waters, Dresdan Files) and a few Disney movies of the week ("Mom's Got A Date With A Vampire" & "Alley Cats Strike") Laura at age 19 landed the lead role of "Sadie Harrison" on the CTV TV series "Instant Star". Instant Star ran for 4 seasons.
In 2006 Laura shot her first feature titled "The Lookout" with Jeff Daniels, Joseph Gordon-Levitt, Mathew Goode and Isla Fisher. It was the directorial debut of screenwriter Scott Frank. Several other TV appearances such as "CSI: Crime Scene Investigation" led Laura into the hands of the CW network.
Landing the coveted role of "Supergirl" or "Kara" on the hit CW series "Smallville," Laura is currently now filming her first season.